Shooting on the JVC GY-HD250U and Editing in Adobe Premiere Pro, There's Nothing Scary About the Budget
As hard as it is to get your ideas onto the page, getting them from the page onto the screen can seem like an unattainable goal. Even if you're a smart scriptwriter who's written scenes and chosen settings that can be recreated on the cheap, the task of the independent filmmaker can seem like a daunting one. But knowledge is power, and a group of DIY movie moguls can get a very long way on several thousand dollars and a lot of goodwill.
Case in point:
Wake the Witch
, an American genre exercise influenced by Japanese horror films and executed by indie filmmakers living in Lincoln, Nebraska. Price tag? A cool $10,000.
"We did all the research to find out how much people have been spending on independent films versus their return," explains producer/DP Chad Haufschild, one of three partners in Unfiltered Entertainment who have together made more than 20 short films and one previous feature, the Haufschild-directed Declaration of Independents. "Eventually we'd like to get paid to do this. None of us have to be rich and famous, but we'd like to not have day jobs. And we want enough of a return to make another one. So we basically self-financed this."
Haufschild already had lighting and grip equipment, as well as a JVC GY-HD250U HDV camcorder that he bought specifically for filmmaking. The bulk of the budget went to craft services – a form of payment for the film's crew members, who were essentially donating their time in exchange for the experience of being part of a Nebraska-based feature-film shoot. "This was the first project where we actually did full-blown auditions and talent searches," he says. "We knew from the script that we needed pretty good talent, and we found amazing talent locally. With the exception of gas money to drive in from Omaha, they donated every moment of their weekends for three months."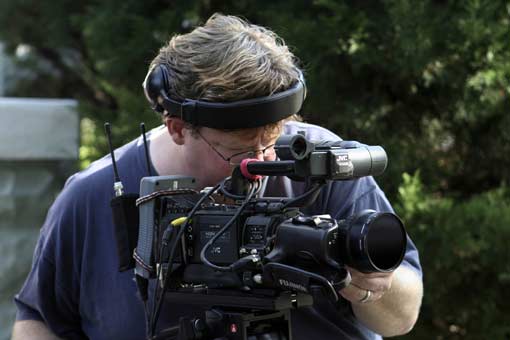 Photo:  Chad Haufschild with the JVC  GY-HD250U
Haufschild had been planning to direct a second feature, but those plans got put on hold when his Unfiltered Entertainment colleague Dorothy Booraem banged out a horror-film script that could be shot right away last fall. Pre-production lasted about two months before the shoot began in late August, stretching into early October, with Booraem directing. The film shot in a small wooded, hiking-and-biking area near Lincoln called Wilderness Park. "You can see by the footage that it's very wooded and untamed," Haufschild says. "And free. Which is always a nice thing when you're shooting a low-budget movie." And there was no money for dedicated audio recording, so the crew took the utmost care to make sure the in-camera audio was as good as it could possibly be.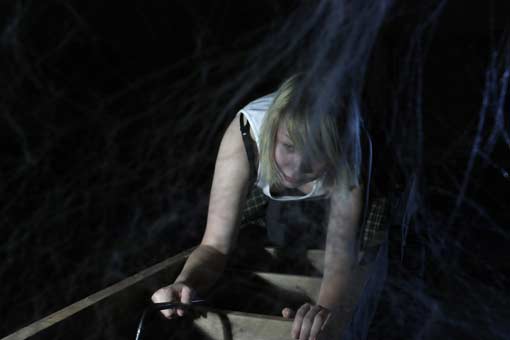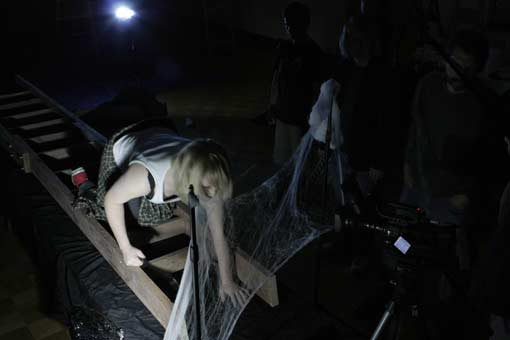 Photos: The cavern descent as it appeared on film, and as it looked during the shoot
Wilderness Park was suitable for the bulk of the film's exteriors, and the production took advantage of interior locations that were available to it, including everything from cast member's apartment buildings to a gymnasium that was dressed with spider-webbing and styrofoam to resemble a deep, man-made cavern at the bottom of a well. And then there's the "witch room," which was built in the basement of a local metal-fabrication shop where the production shot for two weekends. "We created a seven-by-10-foot wall, with a crevice broken out of it, from styrofoam and plywood," he recalls. "We had some really good effects people paint it up to look like it belonged in the space. That's where we got the climax of the film."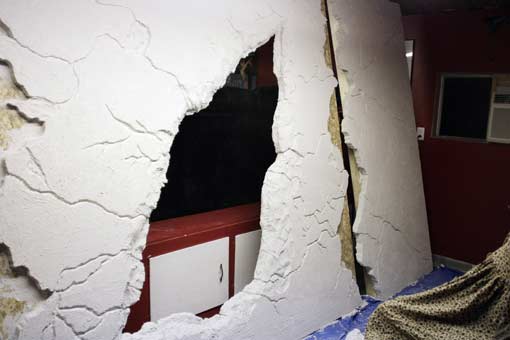 Photo:  A  wall made from styrofoam and plywood
Post-production was a similarly slender affair, with Haufschild and Booraem sharing editorial duties and the third Unfiltered partner, Andrew Johnson, handling VFX work. Video and audio were both recorded straight to miniDV tape in camera, then brought into Adobe Premiere Pro using CineForm's intermediate format for editing on built-from-scratch PC rigs. "I'd love to have gone tapeless, but quite honestly if you shoot it right and light it right, if you take it seriously, HDV can look fantastic," Haufschild says. "And there's nothing wrong with the .M2T files if you're not going to do color-correcting and compositing, but you need the intermediate file format if you're going to do that. So CineForm is a permanent part of my workflow. And because you don't need a massively expensive computer to edit in real time, we build our own machines and save some money that way."
The editing process was another exercise in low-budget collaboration, with Haufschild and Booraem sharing an E-SATA drive to move data back and forth. "I would do the assemblies in the first edit, and then Dorothy would do some tweaking," he says. "It all ended up back in my lap to conform and color-grade and do all that craziness. It was a nice workflow, and we were basically editing in our free time."
Relationships with the local arts community helped, too. Haufschild notes that two local bands contributed music for the soundtrack and local artists created some digital matte paintings and graphic-design work for promotion, marketing, and DVD labeling. "We took promotion very seriously from the beginning," he says. "We brought on Greg Kubitschek, one of our mentors in the film and video community here in Lincoln, as our set photographer and behind-the-scenes producer. We even had a crew member writing weekly blogs during production. Indies need to think about this stuff up front. You can't go back and get it after the shoot is over." Kubitschek ended up joining Unfiltered Entertainment as a lead producer.
At the time of this writing, Wake the Witch was missing just two VFX shots and was angling for an October premiere. That will involve a hoped-for local screening followed by the film's immediate availability via indie-distribution hubs Filmbaby and Amazon.com. And, because the film was shot and finished in HD, he sees a Blu-ray version being available somewhere down the road.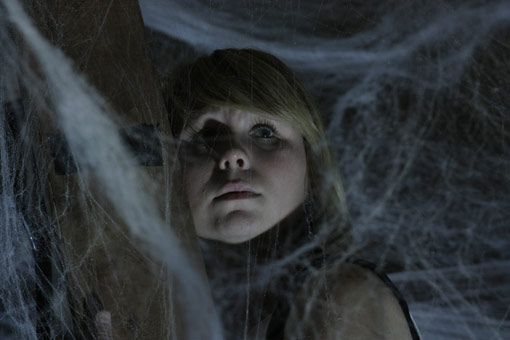 Because this film was produced so inexpensively, Haufschild and his partners hope filmmaking can be a sustainable business ' starting with the planned shoot next spring of Haufschild's script for Last Ride, a production that will be influenced by classic Italian gialli (and maybe some American slasher movies for added flavor) just as Wake the Witch took some cues from J-horror. While the Unfiltered team is up-front about its goals, many indie filmmakers try to be a little cagier about money. "We're finding that a lot of filmmakers don't like to talk about budget," he says. "Some people tend to correlate the amount of money with the quality of the end product. But if you take into account donations of time, props, and that kind of thing on our film, we figure it's about a $56,000 budget. We did it all in hard cash for 10 grand, and you couldn't tell by looking at the movie.
"So what I think is most interesting about us, as a story, is the perception that the amount of money you spend on a project equates to the quality of the product. Slowly, people will begin to realize, especially with the returns on indie-film distribution continually going down, that's not necessarily the case. You can spend a little bit of money on a well-written script with as much production value as you can muster and still come up with a dynamic, interesting, and entertaining piece of cinema. The picture quality is there, the audio quality is there ' and the story and performances will be there, too."
For more information: www.wakethewitchmovie.com.
---
Did you enjoy this article? Sign up to receive the StudioDaily Fix eletter containing the latest stories, including news, videos, interviews, reviews and more.