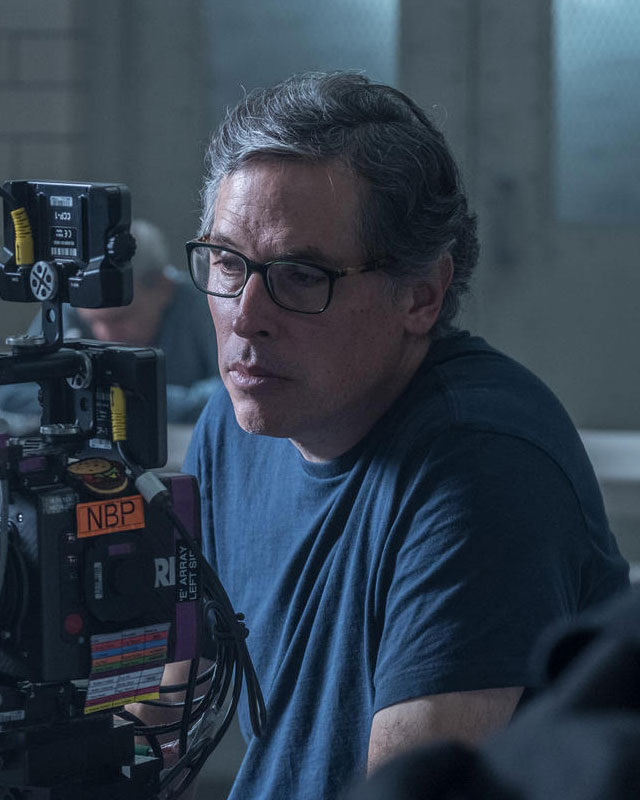 Martin Scorsese's three-hour gangster film required more than just its ballyhooed VFX breakthroughs. Prieto photographed it in a way that gives intimate depth to the life of a Mafia gunman who may, or may not, have pulled off the hit of the century.
For its critical success, awards buzz, and technical breakthroughs revolving around the unique use of brand-new digital de-aging techniques on lead actors for extended sequences, it might be easy to forget Martin Scorsese's new Netflix financed-and-streamed gangster epic The Irishman is largely a classically shot film. At least that's the point of view of the film's cinematographer, Rodrigo Prieto, ASC, AMC, who, at press time, was nominated for an ASC award and in consideration for his third Oscar nomination for his effort on the project.
During his recent conversation with StudioDaily for the Podcasts from the Front Lines series, Prieto emphasized that the movie is first and foremost a study of the lead character, Frank Sheeran, a mob hitman played by Robert De Niro, and that it is themed around "memory, time, and the point of view of this particular person."
"We tried hard to find a way to make the movie subjective about Frank Sheeran, and also make the audience have that feeling of the passage of time and of our own memories and lives," Prieto explains. "That is what we all look for as an audience when we are seeing a movie or any piece of art, for that matter: we are trying to see ourselves, and find out how our soul is in any way connected to that piece of art. So the first challenge was to portray time, and [the second challenge] was the de-aging and visual effects part of it."
---

Audio-only version:
Subscribe: Apple Podcasts | RSS
---
The need to emphasize the personal nature of the story required, in Prieto's view, a classic shooting style, which is why he emphasizes his frequent use of a static or near-static camera for most scenes involving Sheeran. After all, the film is based on Sheeran's memoir, I Heard You Paint Houses, which may or may not tell a true story about the fate of legendary union leader Jimmy Hoffa. Thus, this is intimately Sheeran's story. In it, he is the link between the Mafia and Hoffa (played by Al Pacino), and eventually, the person charged with deciding Hoffa's fate.
In his conversation with Studio, Prieto, however, doesn't ignore the second challenge, which included an intimately close collaboration with Industrial Light & Magic to design a so-called "three-headed monster" camera rig. That methodology permitted Prieto to simultaneously capture performance imagery and data that allowed ILM to build state-of-the-art infrared maps of the faces of De Niro, Pacino, and co-star Joe Pesci. ILM's techniques allowed them to appear both younger and older for different time periods during the piece. For that work, the cinematographer helped design the camera rig holding a Red Helium 8K digital camera and two Alexa Minis that was used to film the de-aging sequences. That approach was required for approximately 50 percent of the film. For the rest of the movie, Prieto shot on 35mm film negative using Cooke Panchro Classic lenses for both digital and film cameras.
But that just scratches the surface. The project also required him to design both Kodachrome (for the 1950s) and Ektachrome (for the 1960s) look-up tables (LUTs) for those key time periods, as well as an ENR style LUT for the end of the movie. Those efforts were aided by both colorist Matt Tomlinson at the Harbor Picture Company, where the film's complicated digital intermediate effort was wrangled, and Philippe Panzini, software research and design chief at Codex in London.
All these challenges, and more, combined together made the experience essentially "a final exam for me, about everything that I learned in my career — how to apply everything, all my experience," according to Prieto.
To hear his first-person account of the effort, watch the video above or download the audio version.
Look for a new episode of Podcasts from the Front Lines every month at StudioDaily.com. Visit our archive of past episodes for more stories from the trenches of modern movie-making.
---
Did you enjoy this article? Sign up to receive the StudioDaily Fix eletter containing the latest stories, including news, videos, interviews, reviews and more.