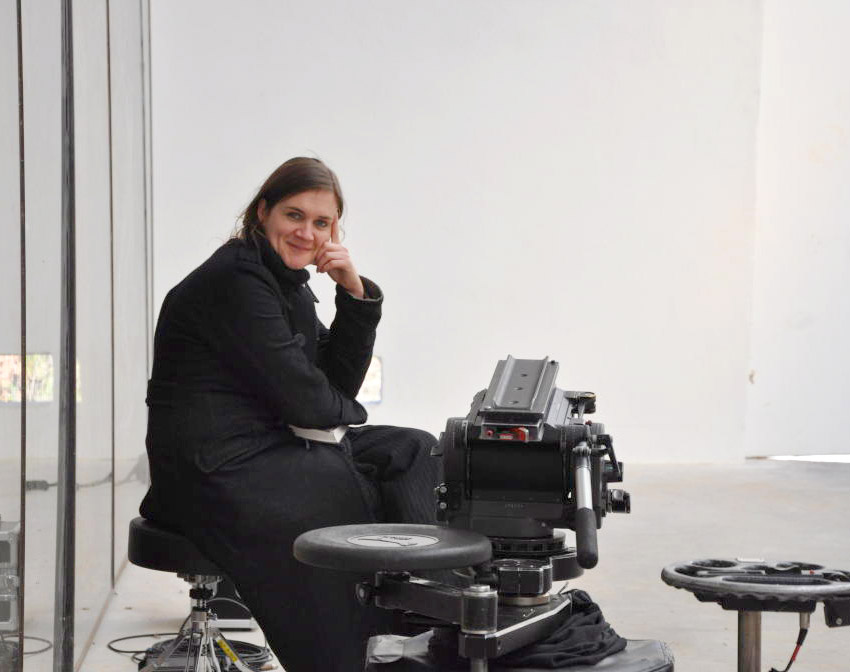 How She Explored the Link Between the Performer's Private Life and Public Image
Without exactly aiming for formal experimentation, Sophie Fiennes' Grace Jones: Bloodlight and Bami also avoids the usual clichés of music documentaries. It does not offer a chronological history of singer/model/actress Grace Jones' body of work or any interviews with musicians and critics commenting on her historical significance and influence. Instead, Jones breaks away from Jones' striking and carefully constructed image and shows us the real person underneath. While including at least partial performances of seven songs slickly shot from multiple cameras, the rest of the film is an intimate look in a cinema vérité style at Jones as she travels around the world over several years. Much of it revolves around her recording of a still-unreleased new album in Jamaica. While you may wish Fiennes had pressed Jones further (after an amazing outburst of creativity where she recorded nine albums from 1977-1989, only one, 2008's Hurricane, has been released since then despite rumors of unreleased work in her vaults), the film benefits the intimacy between the two women and the fact that it treats Jones' artistry and career as a work-in-progress rather than a legend to look back on.
StudioDaily: Grace Jones has a very theatrical image. She is an androgynous and unusual-looking woman. Your film breaks down that performative element; very quickly, we see her just having dinner with her family. Did she have any worries about being portrayed as an ordinary person offstage?
Sophie Fiennes: No, that was actually something she initiated herself. She approached me first. I think she wanted to challenge herself by putting something of the private part of herself into the world. The relationship between that and the theatrical image was something I wanted to explore in the film, but it was a radical act for her to want to open up.
When did she first approach you about it?
She approached me because I made a film [Hoover Street Revival] about her brother's Pentecostal church community. It wasn't really about him. It was more about the community and his sermons as a performance. On the basis of that, we became friends and started a dialogue. Very quickly, I realized she was a fascinating and thoughtful person — very searching, actually. Eighteen months later, she called me and said, "I've been approached by a TV company but I don't want to do the kind of film they want me to do. Why don't we make a film together?" It was the seed of idea that we started to collaborate on. She would call me and say "I'm going to be here, can you come?" I had no financing. She was starting to explore a new chapter in her work, creatively. Bringing me in felt good.
She emigrated from Jamaica to the U.S. when she was 13. You show her returning to the island to record and spend time with the family. One of her hits is "My Jamaican Guy." The production on her early '80s music is influenced by dub reggae and she's worked with [great reggae rhythm section] Sly and Robbie. What do you think her roots mean to her?
She spends a lot of time there now. She's always gone back and forth. She had a boyfriend she was in love with, who was a record producer, named Chris Stanley. He died quite tragically, actually. I think that song is about Chris Stanley. When she tells stories about him, he feels like a character out of The Harder They Come. He was a big influence on her in terms of Jamaican music after her time living there and growing up. When she was there, she had no connection to any culture beyond this repressive church culture. The church people would say "Don't look at the Rastaman. He's got the red eye." They saw Rastas as really threatening. What's the alternative life those Jamaicans are living? Her connections to Sly and Robbie and the Compass Point sound are a really exciting time in her life. She's indebted to Chris Blackwell [the founder of Island Records, her initial label]. I have some beautiful footage that didn't make it into the film of a 4 a.m. session of overdubbing percussion. For Grace, there's her family and then there's her family, which extends to the people she works with. All those musicians are family to her.
You are credited with camerawork but other camera operators are listed in the credits too. How'd you divide up the labor?
Well, all the documentary scenes are my camerawork, but the live theater scenes had five cameramen. I never even saw the show at the Olympia Theater in person. I was speaking to the cameramen through a microphone as I watched what they could see from monitors. It was all shot on film, so they had to change magazines and periodically one of the cameras would go blank. It was quite a white-knuckle ride. I worked completely differently with them. Each camera had a focus puller, and one had a crane.
There's a scene where she goes to a dance club with very trippy lighting and color. Was that done in post-production or was that what it actually looked like?
No, that's what it looked like. It's completely as I shot it in a nightclub in Moscow. There's no post-production effects on it at all. It's a prosumer camera, shot on digital tape, pre-digital files. I kept shooting tapes. It was just me, and a tripod and a directional mic. But I couldn't record live sound. The bass was just impossible to record.
The live performance scenes are really enjoyable. It would've been very easy for them to overwhelm the film. How did you decide how much of them to use?
I shot over five years. When you're shooting documentary, you're not really in control of the event. You just have to be there in the moment as life unpacks itself. I felt like I had gone around the world and had all these moments with Grace, in all kinds of times and places. I wanted to use those layers, but I needed to structure them. The performance was one place where the viewer could easily understand and read it. I could return to it, as an anchor. Within that, every song relates to the narrative or thematic developments of the film itself. I thought about the film like a musical. I used them very structurally, so that they'd be an integral part of the narrative.
Obviously, Jones grew up in an environment steeped in religion. Several of her relatives are ministers. There are references to religion in her music, especially on side one of her album Muse [a 20-minute conceptual suite about a "sinner" who finds religion, changes her ways and then becomes disenchanted with Christianity] and also the second song you see her performing in a nun's habit, but she rebelled against it to a certain extent. You don't see her talking about whether she's an atheist or what exactly her spiritual beliefs are. Did you get much sense of what exactly her attitude towards religion is now?
In any kind of Christian context, it doesn't really work for her. I can only answer that when she volunteered to be the godmother of my child, she said she'd be the "artmother," not godmother. For her, art is actually her religion — the spirit she can conjure in an existential sense. The ritual associated with religious practices is also happening in a theatrical sense. I'd say art is her religion.
It sounds like you became good friends with her over the course of making the film. Did that ever become a problem or make editing difficult?
The thing for me was just that Grace trusted me so much. That was wonderful. When someone trusts you me, you want to make sure that your work reflects who they really are. I'm relieved the film is completed. When someone gives you this kind of access to themselves, their life and their family, it's a privileged position to be in. It's the case with all documentary subjects. Grace is no exception. There's always an anxiety. But anxiety is a necessary part of making anything. You just have to live with that. Grace and I would sometimes have big discussions. But our friendship was important, because it was always there even if we didn't agree. That's the great thing about Grace.
From looking over your filmography, you seem attracted to subjects who are somewhat larger than life and controversial, like Slavoj Zizek, Lars von Trier and Anselm Kiefer. With the exception of Zizek, they're also all about art or artists. Are you interested in making fiction or making a documentary about ordinary working people?
Hoover Street Revival was about lots of ordinary working people. I've also made lots of dance films. I'm interested in documentation of something that moves me. Very often that's work, but it can also be a person. I'm interested in making fiction. The thing about subjects like Jones or Kiefer is that both asked me to make films about them. With Slavoj, it was different. With every subject, it changes. I try to understand the form of the film that can take the viewer to the subject not simply through exposition but through form. There's no great plan. It's just life. Situations come to you, and you think "This is a challenge."
You have two brothers who are actors, a sister who is also a director and another brother who is a composer. You come from a very creative family. Do you feel lucky in that regard? Do you think your life would've been different if your path as an artist was more isolated?
My siblings didn't necessarily facilitate my work. At the heart of where I think we all have sprung from was my mother's interest in progressive education and the approach of the Summerhill School. It works on the basis of learning through living. He was interested in wanting to children to feel free without allowing them to impinge on other people's lives. It was a huge project, in a sense. She had a huge commitment to creative expression, and philosophical and psychoanalytical work. I just grew up in a house that was full of ideas, where children were encouraged to engage in those ideas. This was a time when this kind of education was just breaking through, in the late '60s/early '70s. Since having a child, I've read up on this work and I can see what my mother picked up on that. It's a very specific idea about raising children that privileges freedom. I couldn't come from another place. We all come from very different places, but we meet up and exchange notes.
Were you a fan of Jones' music at the time of her greatest popularity in the UK, when you were as a teenager?
Yes. I was going to nightclubs in London when I was 13 or 14. I was a very big David Bowie fan, and they would have all these Bowie nights. If you went there, there would be other music playing. That's where I first heard Jones' "La Vie En Rose." Around that time, I first saw the cover of Island Life that one of my brothers had. It's a striking image, it never leaves you. At that time, Grace was part of the landscape of music and fashion and art. And so I remember that at nightclubs when they put on "La Vie En Rose," everyone moved to the dancefloor. But the songs that really stayed with me are "Nipple to the Bottle" and "The Apple Stretching." They felt personal to her. When I was first went to New York in 1985 to work with a photographer, "The Apple Stretching" reminds me of that time vividly. My nightclubbing days started at 13 and ended at 15. I like talking! I don't mind dancing, but it's not my favorite environment. Grace and I are incredibly different on that.
Grace Jones: Bloodlight and Bami opens today in New York City and expands nationally in the weeks to come. For a full list of playdates, visit the official website.
---
Did you enjoy this article? Sign up to receive the StudioDaily Fix eletter containing the latest stories, including news, videos, interviews, reviews and more.