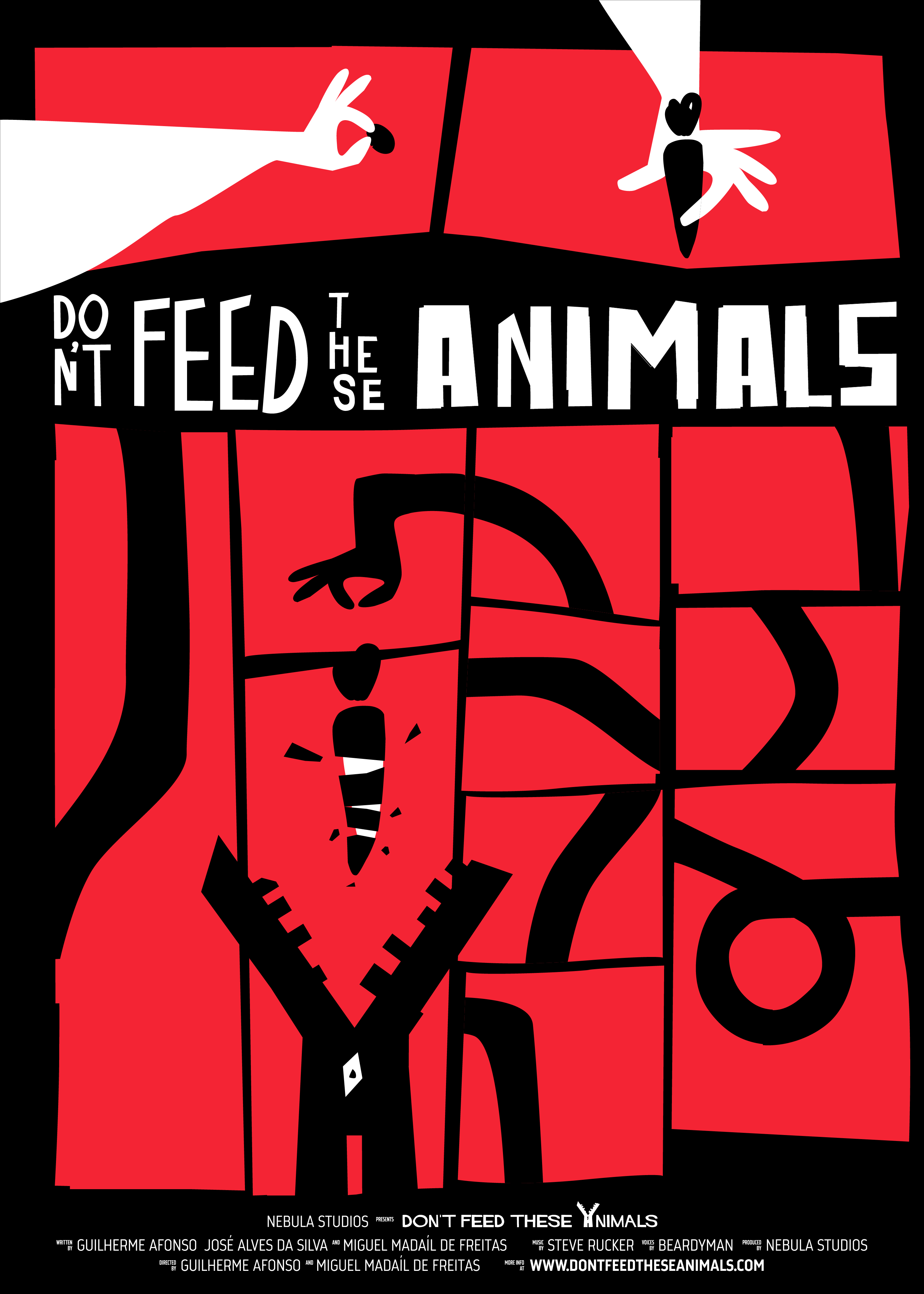 How They Brought the Cartoon Characters of 'Don't Feed These Animals' to Life
What could possibly go wrong when a hungry rabbit locked inside a mad scientist's dark laboratory lays eyes on a carrot and uses a sci-fi ray gun to make it bigger? That's the story that unfolds in Nebula Studios' new animated short film, "Don't Feed These Animals." Released just a few months ago, the film is currently being shown at festivals around the world.
This is Nebula's first foray into filmmaking. Opened in 2008, the production company now has offices in Lisbon and São Paulo. Most of the time their international team does character animation, motion design and visual effects for advertising clients, including brands like Proctor and Gamble and Unilever. But for the past two and a half years, they've been working on "Don't Feed These Animals." with support from Maxon, Redshift, Nvidia, OrionVM, GridMarkets and Wacom.
Nebula founder Guilherme Afonso had always wanted to direct an animated live-action short, and that dream finally took off at a company Christmas party when one of the studio's artists, José Alves da Silva, handed Afonso a drawing of a cute little bunny.
It was a simple sketch, something da Silva had done while trying to get better at character drawing. But Afonso loved the rabbit, so he teamed up with his friend Miguel Madaíl de Freitas, Nebula's CG supervisor, to co-direct a film in the spirit of traditionally animated shorts like the Tom and Jerry series.
Bringing 2D to Life in 3D
Inspired by da Silva's drawings, they came up with an engaging story featuring the bunny, whom they named Lob0 (Lobotomized Oryctolagus Beast number 0), as well as a few other animals and a vegetable or two. "We didn't really have any idea how a script should be written, but we've known each other for a long time, so we worked in a very organic way and it was really fun," Afonso explains. "Getting to make our own film was a different and really great thing because we got the chance to be the bosses. We mostly work with agencies, so we don't usually get the freedom to do whatever we want."
While Nebula's team uses mostly Autodesk Maya and 3D Studio Max, they decided to learn Cinema 4D to make their film, so they could get the look and feel they wanted in a reasonable amount of time. Going with C4D meant learning a completely new pipeline, so the team reached out to Maxon for help understanding the complexity of various tools, including Hair, which they used to create Lob0's fur.
"The rabbit moves around a lot and his hair wasn't doing what it was supposed to, so I talked to Maxon about it and they helped me figure out how to create a secondary mesh and use a subdivision method to get it right," recalls Madaíl de Freitas, who, in addition to co-directing, also was the film's lead 3D artist in charge of look development.
There was one person on the team who already knew C4D well: 3D artist João Batista. He used the software to model, rig and animate many of the film's characters, including the fly and ray gun. Watch Batista's mini tutorial on mechanical rigging, below.
Ultimately the entire team, which included several freelancers working remotely, collaborated to create what the directors envisioned. "We wanted a hand-crafted look that had realistic environments but also visual effects on top of 3D animations that were more cartoonish," Madaíl de Freitas says. A big part of getting the look right was choosing the right renderer. After experimenting a bit, they went with Redshift. "Once we combined what we were doing in Cinema with Redshift, everything worked great and we got stuff out much faster." Watch their Redshift tutorial below.
Because Nebula chose to have no dialogue in the film, its animation had to be over-the-top or subtle at different times to convey different aspects of the story. Nebula doesn't do motion-capture, so Madaíl de Freitas went into a small pantry and filmed himself making all kind of faces and gestures, which they gave to the animators for reference. "Our storyboard was super loose. So I just had to get over the embarrassment and do it, because it was so much harder to try to explain what we wanted," he recalls, laughing.
Making a Film for Everyone
From the start, they wanted to tell a story that children and grownups could enjoy. Though they worry that the trailer makes the film look darker and scarier than it is, they want people to know that "Don't Feed These Animals" is actually pretty upbeat and fun. "I had a nice experience where I showed the film in my kid's kindergarten," Madaíl de Freitas says. "They all gathered around and not only did they kids enjoy it, they really got it. All those details we put into the rabbit's changing expressions and the color of his eyes made sense to them. Many adults don't seem to understand that, but the kids got it right away, which for us was like mission accomplished."
Don't Feed these Animals has so far been shown at 29 festivals, winning Nebula four awards, including Best Animation Short from the Independent Shorts Awards 2019. Many more festivals are on tap for the rest of 2019. "The tour is going great so far, and we are really proud and happy that the film is being shown around the world," Afonso says.
Credits:
Story by Guilherme Afonso, José Alves da Silva and Miguel Madaíl de Freitas
Directed by Guilherme Afonso and Miguel Madaíl de Freitas
Produced by Nebula Studios
Music by Steve Rucker
Character voices by Beardyman
---
Did you enjoy this article? Sign up to receive the StudioDaily Fix eletter containing the latest stories, including news, videos, interviews, reviews and more.