Pierre Michel on the Artistry Behind Loris Paris Spot
French filmmaker Pierre Michel has been able to achieve a rare thing in the commercial arena: the freedom to create whatever he wants without the client even seeing it until it is finished. He did it on the opening for a French film festival last year (
Read about it here
) and he's been able to do it again on the sensuous commercial for the world-renowned jewelry store Loris Paris. Seeing his striking visuals and enigmatic style it is easy to see why clients are willing to give him carte blanche. Watch the video below an then read the Q&A with Pierre Michel below about how he created this commercial.
WARNING: This video contains some brief nudity.
Once the project was awarded, how long did you have to create it? Were there any stipulations by the client?
PIERRE MICHEL:
I had two months to create a concept, shoot it and of course do all the compositing. The only constraint was to show a jewel of the new collection of Loris, which works for the greatest firms in "place vendà´me".
What was he initial concept?
I had this concept of a nude woman with fire for a while in my head and I was waiting the best project to do it, and this was the case. I wanted to make a film eroticsm, stylishness, realistic and try, if possible, to put emotion on it.
What elements were shot and how were they shot?
We shot a nude model named Darine with an [Panasonic] HVX200 on a blackscreen. We put a greenscreen first but after seeing the lightwrap on the model blending with the greenscreen, I thought I was losing all the beautiful luminance details I wanted on the edge. So we exchange the green screen for the black one.
Without possibility of keying, I knew the film would go another way than I originally thought. But the time I won not keying the images allowed me to do a lot of other things. (An important detail is that the model was cold, so her skin was just beautiful with goosebumps.)
We shot in 2K, and I composited in 1K so that I could crop and do 2ds camera movements, and have enough quality to make a 2k master (with good interpolation, and grain process).
We didn't shoot the fire but it is all real. It comes from a lot of different sources: 2K rushes or PAL with a lot different compression (dpx and jpeg mostly). So I knew that there will have a big work of calibration between them to make it feel "natural".
But first I had to make an animatic to see which shots I would use with which footage of fire. It took a long time to do it because it wasn't working very well. The concept I imagined was great on paper, but with real footage it didn't look the same. It gave the impression -among other things – that she was burning.
After days of research, trying to see how I could create something visually interesting and consistent I finally succeeded by concentrating on very small details. I composited a lot of shots that are not used on the film because I wanted to have the liberty to edit the film as if all the shot were real.
What small details did you concentrate on and what was the technical process?
All the compositing was made on After Effects 7 and 8. Working on a Mac Intel, After Effects 8 was the best solution but Image Lounge hadn't released its True Camera Blur for AE 8/intel at time so I had to do all the compositing in after effect 8, render the shots and come back to AE 7, to use one of my favorite plugins: True Camera Blur Rack Focus.
All the fire was slowed down using the new timeremap of AE, that work as the Twixtor plug in. The difficulty is that a fire doesn't look the same between one frame and another because of its velocity so I had to take care of the interpolation very carefully.
The fun part was also to create the flower at the end, I used two pieces of footage that I kaleidoscoped to look like a flower, and tried to find the good dynamic to open it as a flower.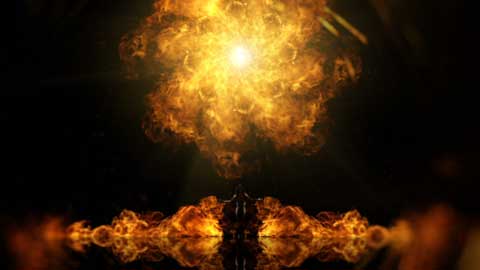 With the 10 bits DPX footage, it was very pleasant to calibrate the fire to the look I want, but with the JPEG sources, it was just a nightmare. I had to recreate channels from others to recreate details. To simplify with mostly levels, hue sat, and color balance, it works. The golden look was made possible with one if my favorite blending mode called Classic Color Dodge.
All the particles were made with Trapcode Particular, one of the best particle plug-in avalaible. Except for the second shot (below), also made with Particular, all the particles are little piece of fire, so that with the samples of motion blur and the rotation of the particles, it looks realistic.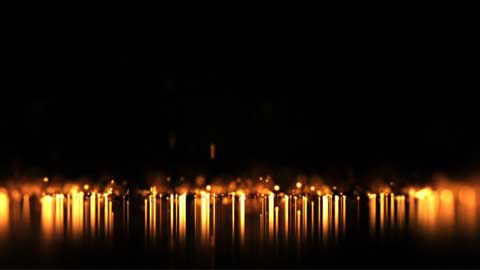 And to create a pseudo float element with highlighted present on the motion blur is simply an extract of the highlights with blending mode.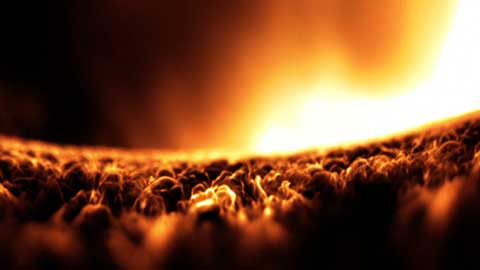 One particular thing is that all the film is glowed, but very slightly. And it is not a common glow, it is a true Camera Blur of the highlights with blending mode. So that I can have a pentagon glow. Very very expensive in time, but it is those little things that make the difference.
In fact it takes me one day shooting, 1 week and a half of research and and 4 weeks compositing.
– Pierre MICHEL
Lead Artist Compositor & Motion Graphics Director
www.pierremichel.net
---
Did you enjoy this article? Sign up to receive the StudioDaily Fix eletter containing the latest stories, including news, videos, interviews, reviews and more.