How Clever VFX Artists Ended the World in Cinema 4D
For state-of-the-art carnage, you'd be hard-pressed to outdo director Roland Emmerich's end-of-the-world epic 2012. Cinema 4D maker Maxon and writer Meleah Maynard offered Film & Video a look at some of the strangely beautiful matte-painting work that went into the film's apocalyptic landscapes. Click the images to see the paintings in high resolution, and read the story to get insight on how they were created.
It was the unique nature of the project that motivated Ivo Horvat to take on the job of matte-painting supervisor for Roland Emmerich's sci-fi disaster movie
2012
. Horvat became part of a team of more than 100 artists working for Los Angeles-based film production company Uncharted Territory, which coordinated visual effects for the film. Rather than running a traditional brick-and-mortar operation, Uncharted Territory created a new visual-effects model by creating a studio from scratch right in the production office on the Sony Pictures' lot.
In addition to coordinating the work of in-house matte painters and work by artists at several of the 14 outside companies that contributed to the film, including Sony Pictures Imageworks, Crazy Horse Effects, Digital Domain and Double Negative, Uncharted used Maxon Cinema 4D to create the bulk of the matte paintings in the movie's Las Vegas scenes.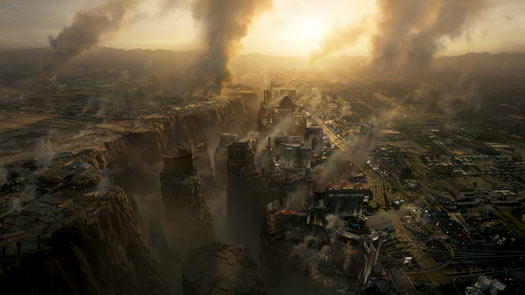 Matte painter Dylan Cole used Cinema 4D to create the matte painting that opens 2012's Las Vegas sequence. "Using Cinema was a real advantage for this because of its easy-to-use camera projection tools," Cole says.
With the destruction of the entire world being depicted in the film, Uncharted co-founders Volker Engel and Marc Weigert, who acted as co-producers and special-effects supervisors on 2012, had their pick of work they wanted to do when they decided to hire in-house artists to take on two sequences. "With so much to do, you would have thought they would have picked easy ones," Horvat says, laughing. "But they took Vegas and Los Angeles, and both presented a great deal of creative and technical challenges." All told, Uncharted contributed 422 shots to the film's total of 1,315, including 100 in the Vegas sequence, 120 in the LA sequence and the rest in a snowy, mountain scene they did along with some green-screen work and compositing tweaks.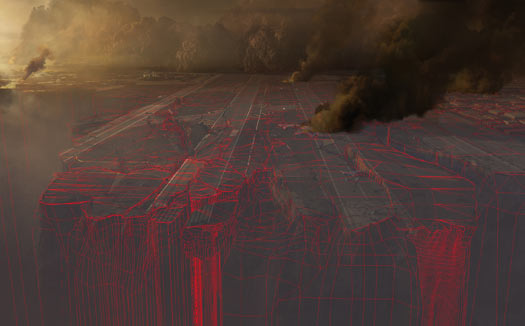 Ivo Horvat, Uncharted Territory's matte painting supervisor, used C4D to model scenes of the crumbling runway at Las Vegas' McCarran International Airport before doing his matte paintings in Photoshop. Master projection was also created with C4D and final compositing was done in The Foundry's Nuke.
The difficulty with L.A. and Las Vegas, Horvat explains, was that the cities were almost entirely comprised of CG and matte paintings. (Vegas was 80 to 90 percent matte paintings.) Dylan Cole, a matte painter on the Uncharted team, made several contributions to the Las Vegas sequence, including the dramatic establishing shot of the city after it has been reduced to smoking rubble. "That shot was particularly challenging because I had to define the look of this destroyed city but still have it be recognizable as Las Vegas," says Cole, who included several obvious Vegas landmarks, as well as the lights of the city's well-known strip, to achieve this goal.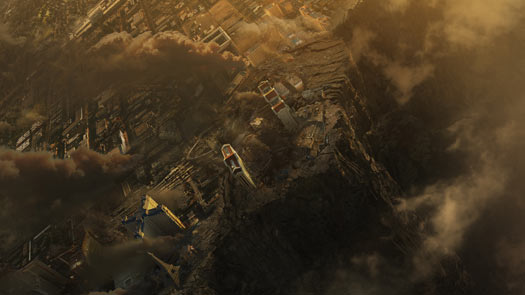 The dramatic shot at the end of the Las Vegas sequence was a challenge for Cole, largely because of its angle and the fact that a large part of the cliff had fallen away. "I just painted the breakaway portion on a separate layer, as well as what it revealed," he explains. Then the geometry was animated falling away and mixed with 3D and 2D debris and dust."
For Alex Nice, who normally uses Autodesk 3ds max and Autodesk Maya, becoming one of Uncharted's matte painters for the film meant learning how to use C4D as he worked. He was pleasantly surprised. "I was surprised by the seamless integration between Cinema 4D and Photoshop," says Nice, who was often dealing with massive Photoshop files composed of hundreds of layers. "With just a few drags and clicks I had a Photoshop layer applied to its corresponding piece of geometry and I was on the to next one."
Nice said C4D also allowed him to speedily render pre-visualizations for review, which helped the team "sell our scenes much more easily, because supervisors could see the paintings in 3D rather than having to imagine what something would look like." Nice also used C4D to turn matte paintings made by other artists into 3D-projection scenes for the film.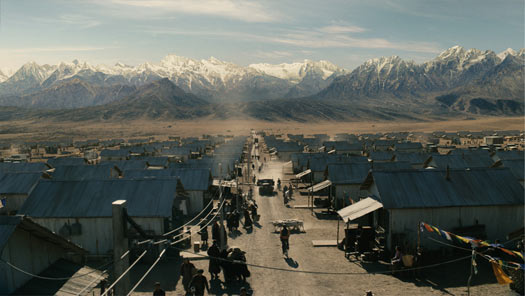 Steve Messing, a matte painter at Crazy Horse Effects, used C4D to turn shots of a simple set in British Columbia into a crowded refugee camp near the Himalayan mountains. Mouseover film still above to compare to original live-action plate.
While 2012 boasts all the scenes of destruction you'd expect from Roland Emmerich, it spends a lot of time on the survivors and their struggles in the aftermath of the global cataclysm. Steve Messing, a matte painter at Crazy Horse Effects in Venice, CA, created the effect of a sprawling refugee camp in Tibet.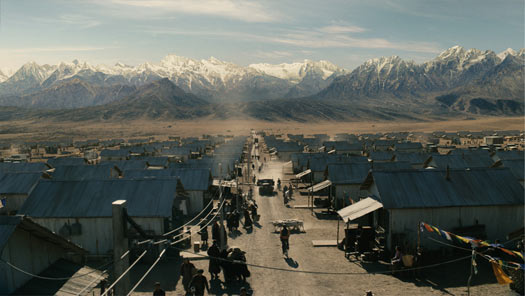 Click the image above to take a closer look at Messing's final painting, which uses a high level of detail and careful use of depth of field to create the military-style camp filmmaker Roland Emmerich envisioned.
Having been given footage of a set, shot in Kamloops, British Columbia, that included about three dilapidated huts on a short stretch of dirt road, Messing used C4D to build an entire camp that looks as if it goes on forever. "We chose C4D because, with so much parallax, we knew we couldn't do it in 2D," Messing recalls, pointing out that the clothes fluttering on the camp's clotheslines were made using C4D's Soft Body Dynamics. "With other programs, I would have had to have a specialist come in to do that, but Cinema's tools are so efficient, I did it myself," he says.
It was Paul Graff, Crazy Horse's founder and visual -ffects supervisor, who supplied Messing with the camera tracking data he needed to begin his matte painting. Graff also had the difficult job of adding all of the camp's overhead electrical wires back into the scene once the painting was finished. "Using the tracking data points, Steve quickly duplicated several layers before populating a scene in C4D," Graff explains. "It was a very efficient way of getting accurate perspective and scale." Compositing was done in After Effects.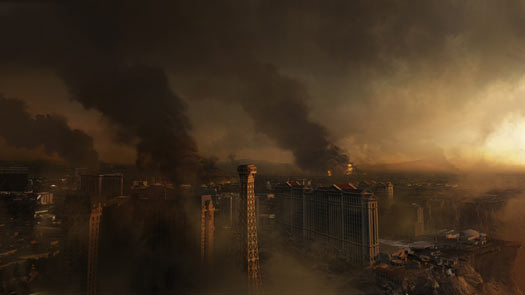 Horvat used Photoshop to sketch this Las Vegas scene before modeling it in C4D. Camera-projected window mattes were used for the windows. "We could set up a reflection environment and deliver running footage of moving reflections rendered out of Cinema for compositing," Horvat explains.
Michele Moen, another one of Uncharted's in-house matte painters, contributed several matte paintings to the project. One, showing the devastated city on fire, was particularly difficult. "The painting combined about eight different scenes and, at one point, it had grown into a gigantic, hard-to-handle, 5 GB Photoshop file with 200 layers," she recalls. Knowing each scene needed to be well composed within its own frame and remain composed as the camera moved, Moen projected layers of smoke, shadows, sun rays and atmosphere onto cards in C4D. "Designing and painting the shot to look good from start to end was challenging, because as soon as there was a move through and past a thick layer of atmosphere and smoke, the values changed and the painting would have to be adjusted."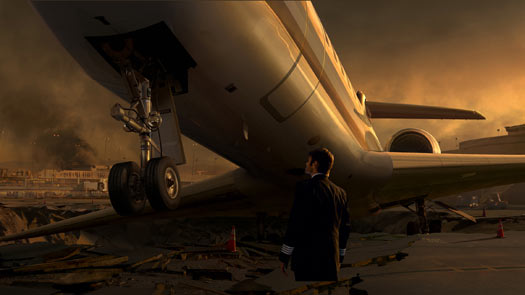 C4D's Advanced Renderer 3 was used to do reflection passes for the plane's windows in this matte painting created by Rick Rische, one of the matte painters on Uncharted's team. Final compositing was done in Nuke.
Asked about specific challenges artists faced on the film, Horvat pointed out the ever-present need to create scenes that could bridge the gap between all of the different filmmaking techniques and technologies that were being used. In the Vegas sequence, for example, scenes include full and partial CG, indoor and outdoor shots (not always from the same locations), blue screen, combinations of CG and matte paintings, and the list goes on. "The entire sequence features brutally accurate continuity, with each shot and angle needing to be well thought out to fit the edit, drama, and physical layout," he explains. "Cinema 4D played an important role in how I achieved all of this because I used it in so many different ways from planning and pre-visualization to matte painting, animation, modeling, camera projection and rendering."
For more information: Uncharted Territory: www.uncharted-territory.com; Crazy Horse Effects: www.crazyhorseeffects.com.



For more on 2012's VFX, see Jessica Clegg's interview with Mark Grazer from Sway Studio.
Meleah Maynard is a Minneapolis-based freelance writer and editor. Contact her at her website: www.slowdog.com.
---
Did you enjoy this article? Sign up to receive the StudioDaily Fix eletter containing the latest stories, including news, videos, interviews, reviews and more.