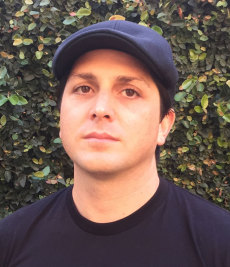 Stepping into the Editor's Chair to Craft a Dramatic Depiction of a Harrowing Real-Life Event
It isn't every day one gets invited to head up a major department on a Clint Eastwood film. Consider the fact that Eastwood's close-knit team rarely has an opening, with most of his key collaborators having been in their positions for years, if not decades. That was particularly true of the editing job in Eastwood's world for many decades, where Joel Cox, ACE, and in recent years, his partner, Gary Roach, ACE, had been in charge of Eastwood's editorial operation. However, for the director's newest release, Sully, Cox and Roach were unavailable due to another commitment when Eastwood greenlit the real-life drama about the so-called "Miracle on the Hudson"—the story of the amazing water landing performed by airline pilot Chesley Sullenberger in 2009 of a US Airways passenger jet on the Hudson River in New York.
Longtime assistant editor Blu Murray, son of Eastwood's longtime co-supervising sound editor, Alan Murray, therefore mentioned somewhere along the way that he would be happy to edit the film if Eastwood wanted. And Eastwood said "all right," according to Blu Murray, doing his best Eastwood imitation during a recent conversation for StudioDaily's Podcasts from the Front Lines series.
---
To hear Blu Murray's full conversation about cutting Sully together, watch the video below or right-click here to download an audio-only version.
---
"They were getting close to starting casting, and Clint came in [while Murray was cutting reference footage in the editorial room] and said, 'All right, I'm going to start going on this one, and you're going to be the man. We'll do it together and it will be good.' I told him 'OK, great, I'm ready.' He walked out, and that was that. It was so intimidating …"
But, in truth, Murray knew Eastwood's team and editorial preferences intimately, and his work and pacing on the movie has been praised by critics. It was, however, a hard job for any editor, because of the nonlinear nature of the tale as penned in the screenplay by Todd Komarnicki, jumping back and forth between the NTSB investigation of the water landing and the events in the air during the emergency — which are depicted more than once, from different points of view. Murray also had to grapple with the fact that the movie included some 600 VFX shots, managed by VFX supervisor Michael Owens. Those shots trickled in over time, altering his and Eastwood's perspective on certain sequences.
"That was definitely a challenge," he says. "We had some great previs to work with that MPC and Michael Owens were able to get us, and we had that in for quite a long time. But the way that Michael Owens works with Clint is that he doesn't deliver a lot of temps to the cutting room. So we were working with green-screen and previs for quite a while. And then, once the shots were developed enough — especially on Sully, since there was a lot of water work and a lot of tough visual effects — once those came in, they inevitably changed the way the picture felt [and] the way the scenes flowed, just because they looked different and were coming from a different angle. I think that was the biggest challenge."
But there were many others — all well worth it, Murray says, for the opportunity to collaborate closely with Eastwood and his other colleagues, including Owens, longtime cinematographer Tom Stern, ASC, colorist Maxine Gervais, and his assistants, including first assistant Christine Kim and second assistant Kevin Murray, his brother.
---
Did you enjoy this article? Sign up to receive the StudioDaily Fix eletter containing the latest stories, including news, videos, interviews, reviews and more.