Devising Multiple Real-World Red Workflows
As the summer of 2008 arrived we at the
Filmworkers Club – Nashville
had spent a lot of time testing and re-testing a number of different options and workflows for posting Red footage. The Nashville market saw the addition of two, then four, then six Red cameras come online at two of the local rental houses. That's a lot of new technology to add to a market of Nashville's size in a short amount of time and the vendors were pushing the cameras hard. Like a lot of post houses trying to plan the best workflow, we downloaded some of the ubiquitous drag racing footage available on the Internet until we were able to acquire a hard drive full of some locally shot footage. Then it was off to the races.
There is a ton of information available out on the Internet on ways in which to post Red footage. Most of this information comes from users posting about their experiences and their own workflows on Reduser.net. Surprisingly there is little official word from Red itself on how to best post Red footage. The company does have a number of people who monitor and post on the message boards at Reduser.net but other than that they are surprisingly quiet on postproduction workflow. The pdf camera manual does have some information on post but not a lot. They seemed to have left editors on their own. The most difficult part of the process is taking an offline edit from an un-color graded cut using low rez footage or the camera (or Red Alert!) created Quicktime "proxy" files and somehow getting that edit back to a final online conform with the highest quality files derived from the proprietary .R3D files that the RED camera shoots. RED does provide some free tools to help in the form of Red Alert! and RedCine but while these software downloads are free, early versions (especially RedCine) have been buggy for many. I spoke with Red's codec guru and "problem solver" Graeme Nattress at NAB 2008 and asked him about this very issue and he said that basically Red is a small company and they are working hard on getting the camera just right and, at that time, were leaving this more streamlined post process to third parties.
One savior for many of us has been Crimson Workflow, a tool that can take an offline edit and provide a number of different pathways back to the .R3D files. Red did produce a video called Red Mythbusters that showed how you can take the camera created QuickTime proxy files and perform an near instant edit. This is true but that doesn't help you get back to the .R3D files for a final conform. And if you've ever tried to group and edit 50-plus takes on a music video with those proxies then you know that it just doesn't work very well. It takes tremendous computer horsepower to plow through the proxy files as a real-time debayer (converting the RAW image into RGB data) of the RAW Red files is required. And the more you pile on to your Final Cut Pro timeline the more difficult real-time playback becomes.
What's the other alternative for finishing? Assimilate's Scratch system was, for the first year or so of Red's life out in the market, the only real finishing alternative that can directly access the .R3D files. With the recent release of a software development kit we will soon have native support for the .R3D files in Adobe applications and others. This will open up a lot of new possibilities for post. After a lot of early tests and actual RED projects using Crimson Workflow and RedCine we decided to utilize the new Scratch Cine system that DR&A, one of our local RED camera rental houses and provider of the cameras used, had acquired as one of the steps in our month of Red.
The Month of Red – Two Very Different Post Workflows
The month of Red came to pass recently when Broken Poet Productions, a long time Nashville-based production company and avid shooter of film, decided to test the camera on two lower-budget music videos that were scheduled to shoot on the same day. Broken Poet productions has created live concerts and music videos on film for more than a decade, but with the influx of Red cameras in the Nashville market, director Eric Welch wanted to find the right projects to work with the new technology. It was an ambitions schedule but it would allow Welch to kick the tires and put the camera through a long day of shooting. Conceptually, the two videos were similar in that they were both performance-based but they were very different in look and style. One was a ballad for the band Room For Two set against green trees and a river while the other was an up-tempo rock song by Natalie Grant. The Grant video, "I Will Not Be Moved," had a much more gritty, rock-n-roll type feel as it was set in an abandoned prison. (Watch the video here.)
"Shooting with the Red camera enabled us to move quickly, while also providing the ability to see what our footage was looking like. These are both key advantages to have while on set. It was a great experience to get a look so close to film on an HD camera" explains Welch.
The post workflow for these two jobs would take different paths. Welch an Avid user and likes to take a pass at the edit. But he was also interested in trying out Final Cut Pro so we decided to cut one of the music videos in FCP. Besides just the offline edit I wanted to finish with two different paths as well. The Natalie Grant video would be cut in Avid using the DNxHD 36 offline HD format and then conformed on a Quantel eQ with DPX files generated from the original .R3D files on the rental house's Scratch Cine. DPX was chosen as it is a 10-bit industry standard file format for exchanging media and is supported on by both the Assimilate Scratch Cine system and Quantel. The Room For Two video (which was a lower budget) had to include a number of standard definition stock footage shots so we chose an Apple ProRes workflow that took us out to tape for color grading and then back into the Final Cut Pro system to composite the stock footage. This wasn't optimal for image quality but with the time and budget it seemed very do-able and early tests revealed that the image quality would hold up. The final step in the postproduction of both of these music videos was the color grading which was done on a DaVinci 2K by the Filmworkers Club's colorist Rodney Williams.
Welch explained that this isn't the normal order of things that one might do on a film shoot, "This is sort of backwards from the film shoot process where you color correct your film and edit with all your footage looking perfect. In the Red process, we edited with somewhat flat looking files generated from the proxies and only color corrected after the final raw files had been conformed. Most clients understand there is going to be a color difference between the rough cut and the final master because they are used to these type of changes in the digital photo world." Before the edits would go to the client for review we would do a quick color correction in the edit software so those viewing the edits weren't looking at a completely untouched image and the "flat" look that they have. Avid Media Composer has a very powerful color correction tool built in so that made it easy to apply a look to the footage before it went out for client review. While it's easy to apply a look in the editing software Welch is quick to point out the importance of color grading as a vital step in the post process no matter what camera you shoot. "From my perspective…no matter what format a project is shot on…the color correction is one of the most important aspects of the process. This is where you give your footage the look, so you can push the colors more. I was excited to see how much we could shift the look of the image in color correction. There was quite a bit of latitude in the image and Rodney was able to create distinct looks for each of the projects."
In Every New Workflow a Little Rain Must Fall
This whole process wasn't without a few bumps in the road. For all of the Red jobs Filmworkers Club Nashville had completed before the month of Red we had kept every part of the process in house and generated the DPX files used for the final conform using Red software and/or Crimson Workflow. While this is entirely possible we had seen a number of problems with some of the Red supplied tools, especially RedCine, Red's "telecine" software for viewing and doing color work on native Red files. There is a somewhat complex process of using RedCine read what is essentially a pull list of footage used in your edit and then generate the DPX files from that list. This is made possible by Crimson Workflow which has literally been the key tool to making a lot of the Red post process work. But RedCine had a problem with crashing in addition to generating information in the DPX files that made the conform in the Quantel eQ a very manual and very tedious process. This wasn't a surprise to eQ artist John Slinger.
"We spent many hours of trial and error working with this new Red format before we got into jobs like Eric's, so we knew exactly what to expect and how do deal with any challenges that could arise. As with any new format, there are going to be hiccups but we knew what to expect and we were able to work through them" explains Slinger.
Since there was such a tight turnaround on these four jobs we elected to use the new Scratch Cine system that DR&A, the technical services and rental house, had recently acquired. The ScratchCine is essentially a tape deck for Red footage though it isn't a deck at all. It's a hardware and software combination and one of the few systems that (as of this writing) is able to see the Red files natively. After the offline edit was locked we would send an EDL to DR&A and they would use that system to generated DPX files for the online. This was a much simpler process than the multiple steps required with RedCine. As with any new workflow it took some time to figure out exactly what the settings would be on the Scratch Cine and what buttons to push to get the desired result. At one point in the process, Kyle Spicer of DR&A actually packed up the Scratch Cine system and brought it over to the Filmworkers Club's building. He set the system up in the eQ suite and he and Slinger used this time to dial in the exact settings need for the most optimum workflow.
"Image integrity, fast turnarounds and efficiency are critical to our clients. When we first got our cameras last year, we were a little worried that we'd be spending an inordinate amount of time batch line item rendering DPX's overnight for our projects. That's where the beauty of Scratch in high-end post workflows like Filmworkers comes in. Kyle's ability to quickly conform and re-render the necessary shots showed us just how integral Scratch is to the Red environment. We owe a lot to Jeff and Lucas at Assimilate for backing us up with great support" said Bret Weeks, General Manager of DR&A. "The traditional tools like RedCine and RedAlert! worked well in most situations, but with Filmworkers' more intensive requirements, we were ecstatic with the results."
It was just another example of early Red adopters going above and beyond the call of duty to learn how to properly use the new technology and, more importantly, deliver the proper end product to the client. These music videos were going to broadcast so we chose to do all of our work at 1920×1080 resolution (instead of the 2K or 4K resolution that the camera shoots) to speed things up. There is a lot of file generation and data transfer when posting Red footage so saving that space on image size also meant saving time. Spicer adds, "It was great. Working with the crew at Filmworkers we were able to really push the limits of the Red workflow. We went through many stages of trial and error, but once we finally nailed the settings everything fell into place perfectly."
With those two videos in the can Broken Poet decided to trust the technology and the workflow of the Filmworkers Club Nashville on two high profile country music videos as well… this is Nashville, Tennessee after all. These videos required a very fast turnaround and little room for error. With the kinks seemingly worked out of the whole post process we were confident we could deliver the finished Red jobs on time. First up was a ballad by platinum artist Rodney Atkins for a tune called "Invisibly Shaken." (Watch it here.) This video was especially challenging (and worrisome) in that it was shot in the woods, at night, with a lot of lights and smoke. We hadn't seen the Red camera used in quite this way so it was a bit of a leap of faith on the part of all involved to trust it to capture enough data to provide good color grading options. As with Natalie Grant, the DNxHD 36 files were produced right from the camera generated QuickTime reference files so there was a moment of panic as the offline edit image was very noisy. I did a quick test in RedCine and it looked as if most of the original Red files would provide enough information to color grade a final image without too much noise in the picture. With a deadline looming close by we moved forward. After the offline edit and the conform were complet, the job went to color grading on the DaVinci and everyone breathed a sigh of relief when the images turned out beautiful. This probably wasn't all that surprising to colorist Rodney Williams.
BEFORE COLOR CORRECTION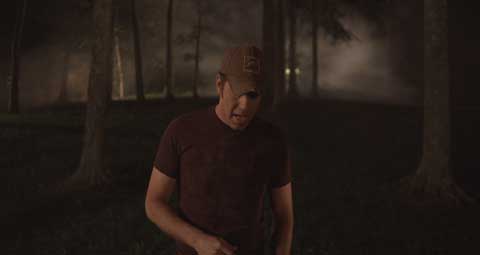 AFTER COLOR CORRECTION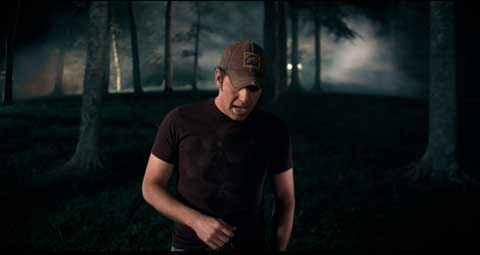 "There are a lot of people who are utilizing their desktop software to do all of their color correction when shooting Red but that requires a lot work converting footage, watching the computer render again and again and that takes time. I get to see people's eyes just light up when they realize the speed of the DaVinci working in real time, especially if a desktop computer has been the only way they have done color work on their Red footage" explains Williams.
Next on the plate was a video for Heidi Newfield, former lead singer for the band Trick Pony for a song called "Johnny and June." (Watch it here.) Since the last shoot DR&A had begun installing the newest firmware, build 16, in their cameras and it was said to be a totally different camera than the previous build. An Internet message board post from Jim Jannard, the founder of Red Digital Cinema summed up the new firmware build this way, "Build 16 is like buying a new camera without going to the store, making a phone call, or placing and order online and waiting for FedEx to show up at your door."
With this advancement came new updates to all of the Red software as well. This wasn't an issue either as all the Red software is readily available as a download. The new software updates were all compatible with footage shot with the older camera builds as well. The footage for the Newfield video was easily some of the best images any of us had seen from a Red camera as it included interiors, exteriors, bright lights and fire!
While we at Filmworkers had posted Red jobs before this month of Red it was Broken Poet's first time using this new technology. While the production company won't be totally giving up the chemical based capture medium any time soon they are optimistic about what the future holds for shooting with the Red One.
"I am not sure it will totally replace film yet. The film negative still gives you a wider range in the transfer process. It is like any other tool…you use it when the project calls for it. For example, the Rodney Atkins video was shot at night in a wooded area. That project would have called for a very fast speed of film and tons of lighting to pull off the look. With the RED camera, we were able to achieve a great night-time look with minimal grain…a great advantage for the camera," notes Welch.
The same can be said for the postproduction process for Red footage as well. One of the great things about Red is you have so many options when it comes time to post. Of course one of the more difficult things about Red is you have so many options when it comes time to post. It can be a confusing maze of questions and technical jargon when trying to decide exactly how to handle the footage. This is why the experience of a post house can be very valuable. A camera owner could do everything themselves on their desktop computer but when you see the difference in image quality you get with higher end tools and artists who are dedicated on their single craft, the difference can be quite striking. As the days go by there are more options being opened up for Red postproduction as well. A number of software companies are building in better (and different) support for the native Red files. As this happens there will be many more options … and many more questions. "I look forward to shooting with the Red camera again. It is a great tool for the future of filmmaking. It creates a great look while providing a flexible approach to shooting and post," says Welch.
It was a busy month in Nashville as the Filmworkers Club completed these four back-to-back Red jobs while maintaining our usual work load of edits, film transfer and finishing. Although we had done Red jobs before, the schedule and turn-around on these four Broken Poet jobs was very tight so there was little room for error. The production community doesn't grind to a halt when a new format comes along so it's important that those of us in post understand how to best support the current and emerging technology. If that's what our clients want to shoot then we figure it out. We may have been sleepy the next morning but we made it work.
---
Did you enjoy this article? Sign up to receive the StudioDaily Fix eletter containing the latest stories, including news, videos, interviews, reviews and more.