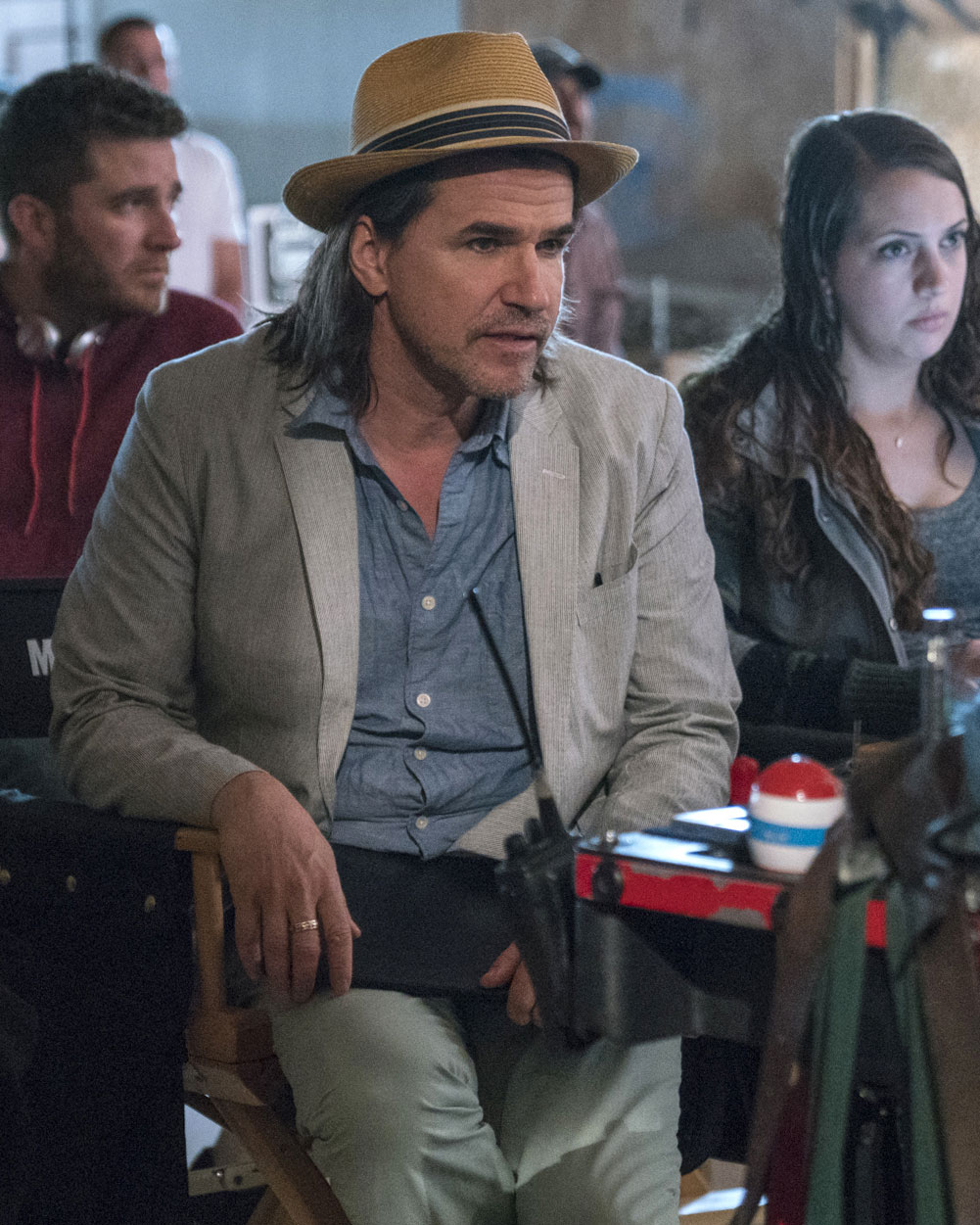 Wielding the Red Weapon with Dragon 6K Sensor to Keep Daylight Harsh and Nighttime Warm
Marvel's Netflix series Jessica Jones includes strong noir elements, such as a cynical antihero who runs a detective agency, suffers from a troubled past and addictions, and prefers to operate in the shadows. The twist is that this sardonic, voyeuristic private investigator (Krysten Ritter) happens to be a former superhero whose brief career ended tragically, leaving her with P.T.S.D.
Upon its debut in 2015, Jessica Jones connected with audiences, doing especially well with female viewers. Production on a second season began in April 2017 after filming of The Defenders, a crossover Netflix series with several Marvel heroes including Jessica Jones.
Manuel Billeter, whose credits also include the Marvel/Netflix series Luke Cage, Iron Fist and The Punisher, resumes director of photography duties for all 13 episodes of season two of Jessica Jones. Billeter adds his noir sensibilities to the look that he established in season one with S.J. Clarkson, who directed the first two episodes. The duo envisioned a feature-film feeling that echoed the bold look of Wong Kar-Wai's films. That look is carried through season two by Billeter, who collaborated with directors Minkie Spiro, Deborah Chow, Zetna Fuentes, Neasa Hardiman, and Liz Friedlander, among others.
"Television today calls for an approach that isn't dumbed-down or fast-tracked," says Billeter. "We came up with a clear vision that was off the beaten path and we stuck to it. That was our recipe for creative success. The noir atmosphere was woven in from page one of the first script. The character is living somewhat in hiding, and she is often watching people. S.J. and I thought it would be good to put a lot of layers between the camera and the actors — reflections, foreground obstruction and visual occlusions. Combined with some unbalanced framing, it supports the story and creates an impression on the viewer. You have to dig deep and peel away those layers to get to the core of this character."
The Jessica Jones production is mounted on sets built at Broadway Stages in Greenpoint, Brooklyn, and on locations in the vicinity. Most episodes are done in eight or nine days, but there is some flexibility if a particular script is more or less complicated to shoot.
Classic 1940s noir lighting is accomplished with hard light cut into dramatic, high-contrast black-and-white shapes. Billeter generally uses hard light in his backgrounds but turns to softer sources to light the talent. Custom-built grids help control the soft light, approximating the precision of the old masters' hard light but allowing for more flattering illumination. Color and color temperature are also very important visual elements.
"A lot of the story takes place at night, and we wanted the night to feel warmer and more forgiving," notes the cinematographer. "We embraced the warm, dirty-orange sodium vapor light that is rapidly disappearing from city streets and being replaced by cooler, brighter LED lighting. We gelled many of the street lights that were in shot so they wouldn't clash with the general tone that we had so carefully designed. The producers understood my plea and made it possible.
"To clearly contrast day and night, we wanted daytime to appear as more of a harsh reality," he adds. "For daylight, I often go a bit more towards the cool side."
Billeter shot season one with the Red Epic Dragon. For season two, he chose the Weapon with Red Dragon 6K sensor, which he generally used in 4K mode. "I was a big fan of season one of House of Cards (shot by Eigil Bryld, ASC), and I knew it had been shot on Red," says Billeter, who generally works at the native 800 E.I. and lights to a stop of 2 or 2.3.
"During season two, I recorded to 5K more and more, because it provides a slightly larger area on the chip. The 4K image area is smaller than a Super 35 frame, so my 21mm lens feels more like a 24mm because it's slightly cropped. Often, I opted for 5K for composition, and not necessarily for image stabilization or visual effects purposes but because it invariably looks immensely better. Like the large-format cameras, the larger canvas just has that look that draws you in. It's more three-dimensional."
The Red Weapon is combined with Panavision's PVintage lenses, which use true vintage glass from their Ultra Speed lenses in modern, fully functional housings with user-friendly mechanics.
"In noir, there's always an element of nostalgia, and with glass that comes from closer to that era, you capture that world in a more convincing way," says Billeter. "I tend to gravitate to wider lenses because they're more inclusive of the environments. For close-ups, we often simply move in and the 29mm photographs beautifully. Closer to the subject approximates the out-of-focus backgrounds, and we often accentuate that with foreground elements."
Jessica Jones' lair is a combination of the Alias Investigations office and her unkempt crash pad. There, Billeter often works with LED panels that allow him to dial up a certain color very easily. The production doesn't complain when he allows a face to fall into complete darkness, but he often includes one white point in the frame to emphasize the inky blacks.
"In order to hear silence, you need a cricket chirping somewhere," he explains. "It's a bit more complicated now with the advent of HDR because that bright accent can become distracting as your eyes gravitate to it. Looking into bright areas causes your pupils to shrink and then you can't see so well into the shadows. But with the Red Weapon, however we record, I know that the camera is capturing it in the absolute best possible resolution and latitude, which puts my mind at ease. On the monitor, I can toggle between raw and LUT, and it shows me what the camera is really recording — and that is a very useful tool."
Billeter relished the opportunity to work with a rotating cast of all-female directors on season two. "It's obviously important in telling this story about a woman," he says. "Cinematographers want to work with good directors with strong vision and an original voice, and their gender really doesn't matter from that perspective. But I absolutely see the need to elevate female directors. Until now, that group of potential talent has been neglected and that's detrimental for all of us. I hope that soon we can drop the gender specification, because the reality is that a director is a director."
Season two of Jessica Jones is available today on Netflix in Ultra HD 4K and HDR versions.
---
Did you enjoy this article? Sign up to receive the StudioDaily Fix eletter containing the latest stories, including news, videos, interviews, reviews and more.