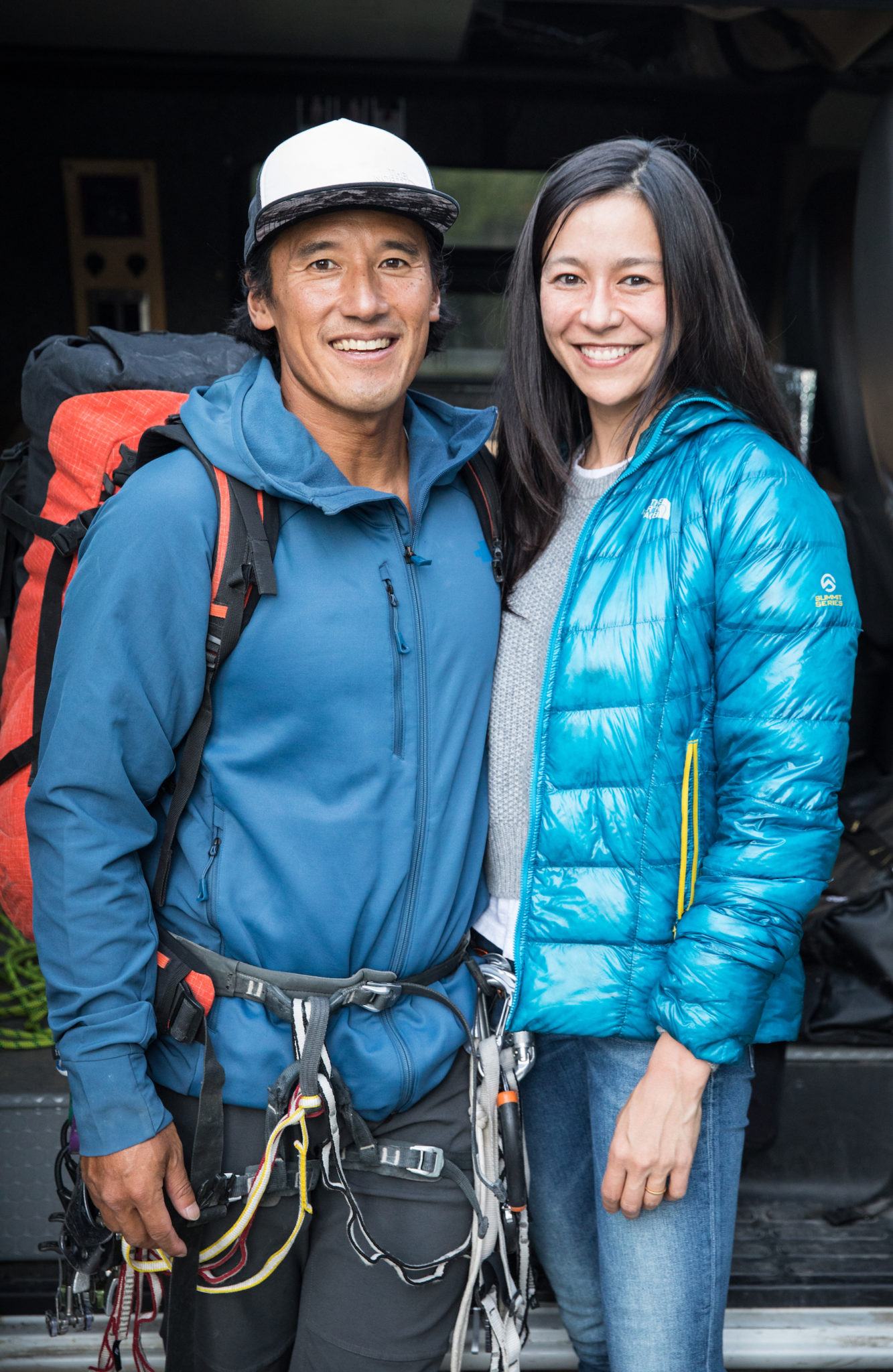 Jimmy Chin, the celebrated climber, National Geographic photographer and filmmaker who takes his cameras higher than most cinematographers, is back in vertical mode with his latest film, Free Solo. With a pared-down crew and range of Canon cameras and lenses, Chin followed 33-year-old ropes-free climber Alex Honnold on his quest to scale El Capitan, a 3000-foot vertical rock formation in Yosemite National Park known for its challenging ascent. Honnold is the only person to successfully climb the rock face without the use of supports of any kind. It was a very personal story for Chin, who has climbed with Honnold for the past ten years and who met his co-director and wife, E. Chai Vasarhelyi, on their previous film, Meru, an award-winning story of obsession and loss and the elite climbers, including Chin, who braved the Himalayan cliff face of Mount Meru.
We spoke to Chin about the unique things he and his wife bring to the mix, how he approached a shoot with so much at stake — a single misstep for Honnold could result in his death — and how he and Honnold manage risk in the moment.
Update 02/25/19: Chin, along with co-producers Elizabeth Chai Vasarhelyi, Evan Hayes and Shannon Dill, won the Oscar for Best Documentary for Free Solo.
StudioDaily: You've talked before about how your mountaineering, extreme skiing and friendship with climber Conrad Anker influenced your still photography. But I'm wondering how collaborating with your wife, the director E. Chai Vasarhelyi, on two feature documentaries so far has refined your style as a cinematographer?
Jimmy Chin: Chai and I both bring very different things to the table, and that's really been the secret sauce of the films. We often talk about this — how neither one of us could have made the films alone. Chai comes from a very serious feature documentary space. Meru was probably her sixth feature and Free Solo is her seventh. She doesn't come from the climbing world and actually comes from the opposite: born in Manhattan, went to Princeton, and so on. But what she brings is an incredible sense of narrative and is really focused on the emotional content and structure of the film. She also brings amazing access to the best of the best in this space, from the editor to the mixers, and has a lot of credibility in the documentary world. Obviously, I bring a lot of access and experience filming extreme sports — everything from ski mountaineering, snowboarding and base jumping to surfing and climbing. For the past 20 years, I've gotten to work with some of the top athletes at the peak of their careers and have been a professional climber as well. I think for me, in terms of how I shoot, I understand what it feels like on the other side of the lens. It's an important sensibility to have when you're filming very high-stakes activity. Our partnership has been really incredible and we're very fortunate to be in this situation. Of course, we've now produced more than two films together. We have two children and have this unconventional lifestyle where we spend half our time in Jackson Hole, Wyoming, and half our time in New York City. It's actually quite nice.
How does Free Solo differ from Meru, particularly in the way that you approached it but also in the way you shot it?
I wasn't planning to make a feature documentary after I initially filmed our climb of Meru Peak [in the Indian Himalayas]. Chai and I met on that project and we used a lot of footage filmed over many years. But this film is much more intentional and we really wanted to explore Alex's character, to dig deep into why he does what he does and the emotional journey he goes on. This is also much more cinéma vérité; we spent a lot of time with him! It was also crafted differently. Again, the various aspects of the film that Chai and I focused on were very different but we both appreciated what the other was trying to do. The story that really captured Chai's imagination was she found out that the reason he was a solo climber was because he was a very awkward, shy kid and it was way more scary to talk to someone and ask if they wanted to be his climbing partner than it was for him to go and climb alone. So here's this kid who over time developed into a person who accomplished one of the greatest athletic — or human — feats in history.
For me, who has worked with all these incredible athletes over the years, I've never seen anything even close to what I've seen Alex do, just mentally. He has a superpower in that he can control the most basic emotion we have as humans, which is fear. And he can control it absolutely, and then execute perfectly. The greatest athletes in the world are often judged by how well they perform under pressure, and Alex is clearly able to outperform any of them. And there's so much more at stake. If you don't play your best game and lose the NBA championship, you lose the championship. You don't lose your life. To make a comparison of what Alex does, it would be like you had to go into the championship prepared to execute every single shot perfectly. If you miss a single shot or have one tiny misstep dribbling, you're gone. That's a totally different type of pressure. The stakes for Alex are that high.
That makes the filmmaking stakes equally high. How did you build out your team to tackle it?
We divided the team between a smaller one to shoot the vérité shots of Alex on the ground and our high-angle crew shooting his climbs. This is the kind of production where it was all hands on deck at all times, so we certainly had crossover. We had a small crew for that to make sure we had the coverage of Alex and his life behind the scenes and his relationships to the people around him. It was anchored by the amazing DP Clair Popkin, who is also an athlete.
Is that a requirement for your films?
Well, you have to be able to move and be comfortable in all kinds of terrain. Even though Clair was our vérité DP, he shoots completely different stuff, from documentaries [Becoming Warren Buffet, Dark Net, John McCain: For Whom the Bell Tolls] to commercials, all of it outside the climbing world. He's very talented and successful, and he's only in his early 30s. Clair never got on the wall, but he was on top of El Cap when Alex came over the top. My high-angle team was often shooting vérité scenes as well. We were also running our audio guy pretty hard. He had to deal with very complicated setups. Alex would disappear up a 3,000-foot wall, and he had to make sure there was audio the entire time. He had to meet Alex at the bottom, then meet him up at the top. It was a very logistically complex shoot.
What cameras and lenses did the high-angle team have in hand?
On the walls we were shooting with the Canon C300s [Mark II]. Since I was directing and shooting, and also shooting a NatGeo story on top of it, I was filming with the Canon 1DX Mark II so I could film but also shoot stills. But everybody else was on the C300s. When we were up on the wall, we were using EF lenses, but when we shot vérité we often had the Canon Cinema Primes. The long shots from the ground up the wall were through the Canon 50–1000mm Cine-Servos. As you can imagine, that was a very critical lens throughout this film. Canon went above and beyond in their support of this film. We were very lucky indeed.
How many of you were on El Cap at one time?
The thing is, the free-soloing face of the wall is so fragile, so it's not like we could just have a huge crew up there with him. There's a point of diminishing returns. We had to pare down the crew to the perfect and most efficient amount of people. We had four people filming on the wall, including me, and a rigger. All of us were also doing our own rigging as well. We also had remote cameras. Normally it would be double that. We had a lot of efficiencies because the team I put together are the best in the world. There are only a few people that I can call on that can handle everything, from rigging their own ropes and climbing to being really good operators and cinematographers. On the day of the climb, we had four people on the wall and our rigger — who even did some filming and got a shot in the final film — and another two people on the ground filming, and one of them was our audio guy, who was also filming, and then we had Clair shooting the base and then he went up to the top, as I said, and filmed the top of El Cap when Alex reached it.
Everything sounds like it was a challenge on this film. Did you have any close calls?
The scariest thing for us to think about were the numbers. We spent at least 30 days, over the course of two years, on El Cap filming. Thirty days times five people — that's like five or six people climbing El Cap at least 10 times. That's a lot of time in high-angle terrain where you can never make a mistake. That's a lot of numbers adding up in terms of exposure to risk. The biggest close call came when we were in Morocco when Alex was training. Because it is not as traveled as Yosemite, there's a lot more loose rock. Kicking off a loose rock is one of the biggest objective hazards we faced. We had an event where a rock was dislodged and the entire crew was on the wall, straight in the line of fire. Not only that, on its way down it hit a ledge and shattered and knocked off all these other rocks. The entire wall got strafed by one baseball-sized rock. That was the one major incident, but considering how much time we spent in high-angle terrain, that's pretty good.
And because we spent two years on this, we were able to refine our shooting setups and systems, particularly on the route that Alex was on. That gave us a lot of opportunities to figure out how to be very surgical about how we shot the actual free solo ascent. I've been filming with Alex 10 years prior to this project, so our rapport and working relationship was really solid. Clearly, this is the kind of film where you need to have a lot of trust between subject and director. I trust Alex to make good decisions on the wall; I would not have taken on this film if I thought that he would fold to external pressure or do anything compulsive. He's very meticulous, and we get into that in the film. But he has to know that I'm going to put together the right team and we're going to be very safe. We've climbed all over the world together and we were in the perfect situation to make this kind of film.
How has becoming a father changed your own worldview and your climbing goals and career goals as a filmmaker?
I think the biggest change is I just want to spend as much time as I can with my children. Now that they are almost three and almost five, it's such a fun set of ages. They are just yummy and so hilarious and so cute and so insightful. I want to hang out with them and see what they say and do and discover. We've survived the twos and we've reached the really fun stage. But in terms of risk, I'd say it has also changed me. I was 40 when I had Marina, so by the time I hit 40, I had a pretty realistic view of the hazards of what I do. I've witnessed things go sideways and I've lost a lot of friends. My experience, then, almost more than my children, has already shaped my approach to risk on these expeditions. I would say that, among my peer group, I'm now pretty conservative. I do think it is a different understanding of risk than most people, because risk is relative. My idea of being "conservative" when I climb or shoot at high angles is very different from the other parents I meet when I drop my kids off at Episcopal Preschool on the Upper East Side. But among my peer group of climbers I make very conservative decisions on the mountain.
What will you say to one or both of your children if they decide to become a ski bum or climbing "dirtbag" at the exclusion of all else?
That's probably where my wife and I differ. I don't think she'd love her children to be living out of the back of a car, like I did at one point, for most of their adult life. But what we've both discussed and what we're both on the same page about is, so long as they find something that they are passionate about, we will be happy. And whatever that is, that's great. If my son decides to be a poet because he loves poetry, I'm 100% for it, as I am for anything that they find that gives meaning and direction and purpose and drive to their lives. And I think Chai would agree. If it was a choice between being a dirtbag and climbing because it gave them meaning and not being motivated at all, I think we'd both probably be happy that they found climbing. There's absolutely no pressure, and probably counter-pressure to either of them being professional climbers or even athletes, even from me. I'd prefer them not to be professional skiers or athletes. But it's about what they find that drives them.
Do you envision a time when your cinematography will separate from your climbing, or are they intrinsically linked for you?
They are definitely linked because it's not just about climbing. My whole world revolves around being out in nature and beautiful landscapes. I know myself, and there's nothing that makes me feel more present and happy than being outside in the wind and the elements and moving through it, or watching the sunset, or being in the ocean surfing. It's just part of who I am and who I have become. I think less about where my cinematography will go and more about how much I look forward to enjoying that space with my family. I think that the photography will continue to evolve, my cinematography will continue to evolve. The potential for creativity in those two spaces is infinite and I recognize that, and there are all these things, even after 20 years, that I still haven't been able to do. It's very rich place to evolve in. Who knows? Filmmaking has just been another totally new avenue of creative expression, and I feel like you can spend a lifetime working in the feature documentary space alone.
---
Free Solo opens today in New York City, Los Angeles, Denver, Colorado, and Boulder, Colorado, and expands in October. For a list of screenings, check the film's official website. 
---
Did you enjoy this article? Sign up to receive the StudioDaily Fix eletter containing the latest stories, including news, videos, interviews, reviews and more.