DP David Boyd Makes Horror Work in Broad Daylight
Shooting horror in Super 16 and, often, broad daylight? Scary stuff. To get the new American gothic look of AMC's horror series The Walking Dead, cinematographer David Boyd, ASC, took inspiration from the show's graphic-novel origins, as well as from the auteurist stamp of writer-producer Frank Darabont.
The source material, written by Robert Kirkman and drawn in stark black and white by Tony Moore and, later, Charlie Adlard, gave Boyd important visual cues. "The original book includes beautifully crafted images," he says. "It's obvious that a lot of great thought went into the way those images look. I think that comics and motion pictures share many similarities. You're telling a story with a series of images. In shooting the show, anytime I could get a dramatically high angle or a low angle looking up, or anything especially graphic, I would do it."
Boyd also kept in mind what he knew about how Darabont, a three-time Oscar nominee, has expressed himself through his career, and watched Darabont direct the 90-minute pilot, which aired October 31, with cinematographer David Tattersall, BSC. "Frank is the most efficient visual storyteller I know," Boyd says. "He has no patience for the things that separate us from each other, and his work conveys that."
Boyd has his own history as a maker of inventive and dynamic images for television. He shot 42 episodes of
Without a Trace
and 18 episodes of
Friday Night Lights
. His work on an episode of
Deadwood
in 2005 earned him an ASC Award nomination, and his feature-film résumé includes
12 Rounds
and
Get Low
.
The Walking Dead revolves around the character of Rick Grimes, a small-town cop who, along with his family and a small band of others, tries to survive in a dystopian world overrun by zombies. It airs on AMC, which pays attention to visuals. AMC's shows Breaking Bad, The Prisoner and Mad Men — all produced on film — earned Emmy nominations for cinematography this year.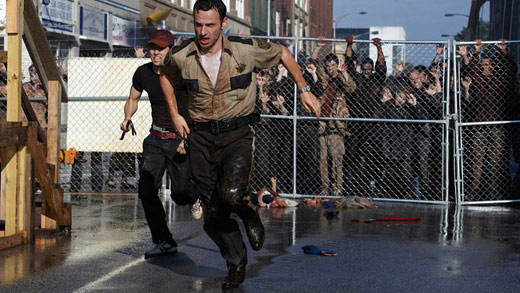 AMCtv.com/Photo by Scott Garfield, © TWD Productions
Run-and-Gun On Location
The production was mounted in Atlanta, where much of the action in the story takes place. Boyd and his crew shot the episodes entirely on practical locations. That fit with a run-and-gun aesthetic. "These characters are on the run, and we wanted the audience to feel that, so my crew and I were spontaneous and mobile as well," says Boyd.
That approach seemed to argue for a documentary-style production that was light on its feet. But Darabont and Boyd wanted to choose a format carefully, so they shot an extensive series of tests with a range of cameras including 35 mm and Super 16 film cameras alongside RED One, Genesis and other HD cameras.
"Every conceivable format was tested before production," says Boyd. "When the images came back, everyone realized that Super 16 was the format that made everything look right. With the smaller gauge and the grain, suddenly the images seemed to derive from the graphic novel itself. Every image is a step removed from reality and a step deeper into cinema."
AMC's director of production, Susan Goldberg, took a close look at the tests. "For The Walking Dead, we like the texture and the speed you can get with the Super 16 film format," she explains. "We have a high standard at AMC for what our shows look and feel like. We feel there is a certain elegance with film, and we think film adds a cinematic quality that fits with the rest of our programming. Feature films air before and after our original series, and we want smooth, elegant transitions."
She also cited dependability as a factor in choosing film over digital. "For Broken Trail, we filmed in remote locations in Canada," says Goldberg. "In Breaking Bad, we had a lot of harsh daylight exteriors in and around Albuquerque, New Mexico. The Prisoner was filmed in South Africa and Namibia, and there were sandstorms. Fixing an HD camera can be problematic. There's a certain safety and comfort level that comes with shooting on film."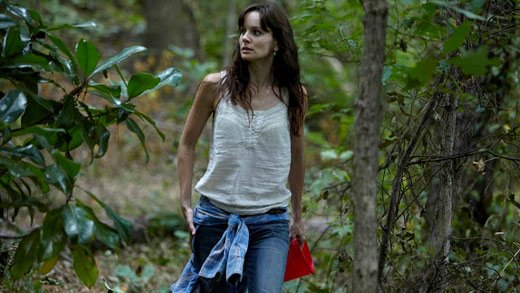 AMCtv.com/Photo by Scott Garfield, © TWD Productions
Three-Camera Shoot
Boyd and his crew shoot most scenes with three handheld Arriflex 416 cameras mounted with zoom lenses. "Even completely tricked out with on-board batteries, monitors and other gadgets, those cameras are lightweight and only about 18 inches long, so you can run around with one all day," he says. "We were in amongst the cast and, after the first episode, the cast knew that they had the freedom to do whatever felt right and we'd follow them. The operators knew they had a mandate to get what's needed.
"Our shooting style also adds a tremendous amount of efficiency. That saved time means that the actors can have another take or two, and it allows us to get another angle or two. That gives us more flexibility in the editing room and that all makes the show better. The fact that the Super 16 format costs less is just a secondary benefit, but it means we can put that money into lighting or some other application where it further improves the final product."
Counterintuitively for a zombie tale, much of the action in The Walking Dead takes place in broad daylight. Sometimes the most normal settings are the most dangerous, whereas the safe places are on rooftops or in dark, subterranean hideaways. Boyd manipulated color temperature by shooting on tungsten-balanced film stock (Kodak VISION3 500T 7219) but sometimes leaving the images uncorrected or partially uncorrected for daylight. The resulting cool cast helped sell the zombie makeup. The effect was fine-tuned in color-correction at Modern VideoFilm in Burbank. Dailies were transferred at Crawford Communications in Atlanta.
"The cooler bias takes a little of the life out of the zombies' faces," says Boyd. "It's not the peachy feel you get from a normal human being. In selected scenes when things are dire or require a fully graphic look, we'd push the stock a little bit to enhance the grain."
A Documentary Style
On Boyd's crew, there's no hierarchy of importance among the three cameras — there's no A camera per se. "Oftentimes what would be considered C camera gets the most unproduced shot, because that is the angle or shot that gets talked about the least," he says. "It's free to go find something that is particularly special, especially after a couple of takes. We have more than a dozen characters, and they all participate. We did these episodes in eight days. We had to find ways to cover everything, quickly, and that led to trusting the operators to find great shots."
As in Friday Night Lights, the handheld, grab-it-on-the-fly approach can result in spontaneous moments that add to the feeling of authenticity. The operators and the actors play off each other and learn each other's proclivities. "We work with an understanding of the documentary language," says Boyd. "We know all the work of Albert Maysles and Ricky Leacock, and that informs what we do. We want to keep the performances feeling fresh and unrehearsed. The decision to shoot the show in Super 16 turned out to be an all-encompassing choice that had good effects in every aspect of the project.
"The most rewarding thing to me about photographing The Walking Dead was to see all the various approaches each actor took," he says. "It goes back to Frank's ability to break down boundaries. After a couple episodes, the wall between cast and crew melted away, and we were just a group of friends working together. We shot through the summer at practical locations in Atlanta, so there was a lot of heat and humidity and many thunderstorms to endure, but everyone wanted to see it through. This production had a momentum that was beautiful to witness."
---
Did you enjoy this article? Sign up to receive the StudioDaily Fix eletter containing the latest stories, including news, videos, interviews, reviews and more.