An 8K-Sensor CineAlta that Records 4K, a Modular Super35 mm Alternative to HDSLR and More Ways to Rig the F3 for 3D
Sony is set to display at NAB a suite of targeted, feature-rich cameras based on its latest CMOS imaging technology. New HDCAM-SR decks and
OLED monitors
complete this high-res picture. I saw most of this new gear earlier this month during demos for a small group of press at Sony's engineering and manufacturing plants outside Tokyo and farther south on the island of Kyushu. I can tell you that the company's product story for this year's show is exceptionally strong. It's one of tremendous pixel density, image quality and product breadth. But will it be enough to challenge the newer comers in the market that are still chipping away at Sony's core customers? It all begins with the sensors.
An 8K x 2K CineAlta
The boldest piece of Sony's sensor narrative is about size. On the heels of the Super35mm-sized single CMOS sensor the compnay developed for the F3, Sony has announced another CMOS single-sensor milestone: Its newest CineAlta camera featuring an 8K x 2K chip. That gives the new 8K CMOS inside a total pixel count of 20.4 million pixels, far more than the roughly 8.8 million pixels of the current 4K x 2K sensors in other existing cameras on the market. The new sensor size obviously also brings with it higher color reproduction and resolution than can be captured by those other 4K sensors. But don't confuse sensor size, pixel density and resolution with the recording format. The images are still recorded and output in 16-bit RAW 4K (16:8:8). During our demo at Sony's Atsugi Technology Center in a suburb of Tokyo, however, those images were noticeably crisper, brighter and cleaner as a result of the extra pixels. Blacks were deep and rich, too. No shades of gray here, though if you were shooting a mountain climber against a textured, marbled slab of granite, this imager would certainly pick up every bit of uncompressed detail. I'm told the camera will shoot from 1 through 72 fps. Crank that up to a High Frame Rate mode and you can go all the way up to 120 fps.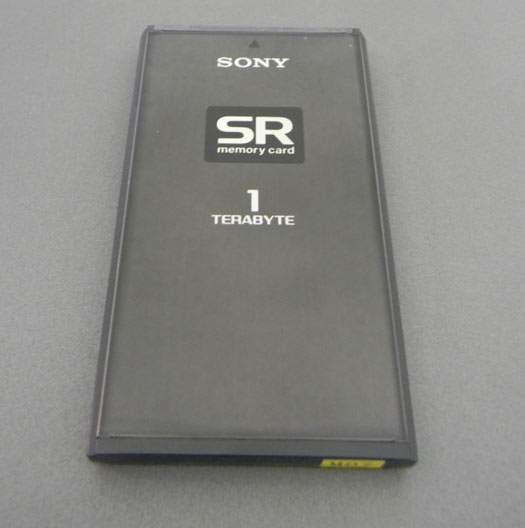 When we first got a look at this camera under wraps at Atsugi, it was unofficially called the "F65." We were told the official name would be released at NAB, where Sony will be showing a prototype along with a 1 TB SR memory card that can hold up to 60 minutes of content shot at 24 fps (more on that new card below, in the HDCAM-SR section). At the time, executives estimated the camera would begin shipping in early summer. I can't show you any pictures of this large-sensor wonder, but you will be able to see for yourself at NAB.
New Options for the F3
Sony's Super35 mm Exmor CMOS sensor inside the F3 created quite a stir last fall, both here in the U.S. but notably in the U.K. production community. Now, a new RGB 4:4:4 and S-LOG output option will give F3 users the ability to send an RGB signal out over HD-SDI dual-link to an HDCAM-SR/SR Memory deck. The S-LOG Gamma output, which gives you that oft-desired cinema-style look, also includes a viewable in-camera LUT.
Using the lightweight F3s in a stereo 3D rig is another way to get more out of these multitasking Super35 camcorders. F3 owners who purchase a 3D-Link option will be able to sync two cameras, like the ones I saw in Sony's Atsugi facility, below.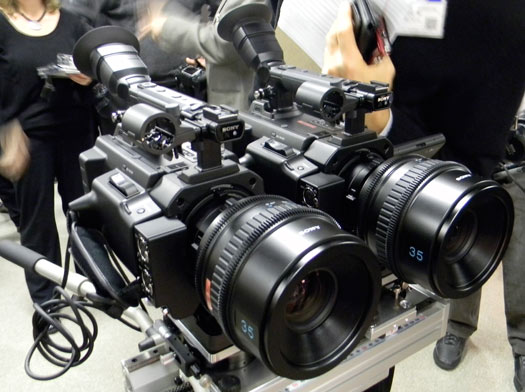 An F3 3D rig using the new 3D-Link option
For those 3D shooters who want to lose the rig for added mobility, Sony will also show at NAB an all-in-one 3D camcorder featuring dual 3CMOS 1/2-inch sensors, part of its XDCAM EX line. Sony's XDCAM line will expand with a new XDCAM drive, an archive disc library "juke box" and an SxS Memory and Professional Disc media station with 1 TB of internal HDD recording.
NEX-FS100: More than an Imager
Admittedly, during these past few years Sony engineers were squeezed on both sides by the not-so-gentle nudging from other manufacturers making cameras with equally great optics and large sensors inside: RED's designs pressed down from the high end and those from the still-camera DSLR camp pushed up from the opposite direction. The production community is still following every one of those tempting and at times delicious dangling carrots, many away from the Sony cameras they used previously. But carrots alone rarely make a meal.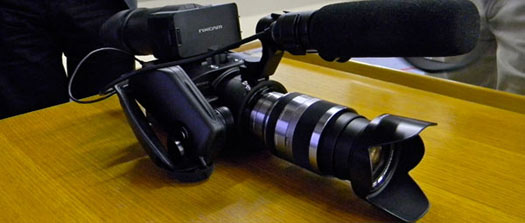 The new NEX-FS100, with the mic and detachable eyepiece attached
So, like Panasonic's AF100 just before it, the near-shipping arrival of a highly modular video camera with top-level optics that shoots in extreme low light and features shallow DOF is cause for celebration. The just announced NEX-FS100 (also seen at top of this article) features the exact same Super35 sensor in the F3, yet in a more affordable, scaled-down package. Sony's 60 fps all-pixel scan mode pretty much does away with the moirà© and rolling shutter you get with HDSLR cameras. The codec is AVCHD, which is really about getting the best quality image in a camera this size for the money. Some may balk at those compression rates, but to get a better, more immediate sense of the kinds of images you can get with this camera, watch the music video Den Lennie and James Tonkin just shot with a pre-release FS100 for British singer Cozi:
Cozi: Vertigo,   from Den & James on Vimeo
Now back to those specs. Hinting in shape and size at the storied box cameras from still photography's early days, the lightweight NEX-FS100 features a sturdy, pro-audio mic, two-channel audio, a detachable socket-cupping eyepiece, a 3.5-inch LCD monitor and is ready for any of Sony's interchangeable E-mount lenses. Yes, optics are an equally important part of this camera's story. Adapters already on the market will let you add just about any other lens you want, whether a Sony A-mount or another manufacturer's mounts. $5,850 gets you the camera without the lens; $6,550 includes a Sony E18-200mm F3.5-6.3 OSS zoom lens that comes standard with optical SteadyShot and auto focus.
Some across the Interwebs have wondered why there's no SDI out in this camera. If you've got 10-bit HDMI out with SMPTE and audio timecode, you may not really need SDI, as others have suggested, saving you even more money.
Sealed and Delivered: The HXR-NX70U

Farther down the NXCAM chain, with a smaller Exmor R CMOS sensor, is the new HXR-NX70U, above. It's a sturdy and sealed little camera with a 96 GB internal memory that meets the full International Protection Rating requirements for dust- and rain-proof products, making it perfect for extreme run-and-gunners among documentary filmmakers and video journalists. It lists for $3,200 and features optical SteadyShot stabilization and a handy built-in GPS receiver.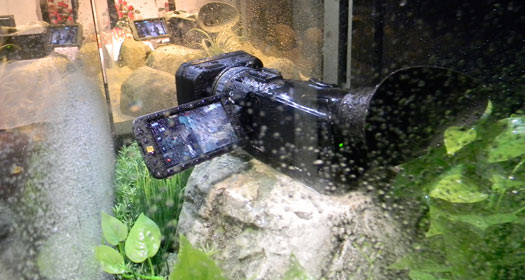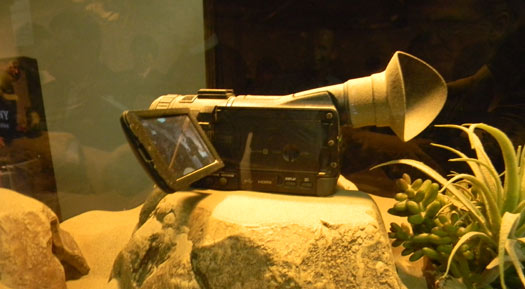 These two HXR-NX7OU models, seen here under glass at Sony's Atsugi facility in Japan, continued to output steady signals and pristine footage despite the battery of sand, air and water from all sides.
Kumamoto TEC: Where the Sensors Grow
Is the secret sauce for all these cameras in the sensors? Sony is betting on its high-speed CMOS sensors, from the Exmor imagers inside its NXCAM models on up to its peerless 8K x 2K superstar in the forthcoming CineAlta, for a variety of reasons. While the CMOS structure typically has a high fixed pattern noise, it's a low-voltage and low-power alternative to CCD. You also don't get the vertical smear from bright light sources that you typically get with lower-cost CCD-based cameras. Remember when CCDs were the top of the heap? Sony says that advances in its Exmor line, which was originally based on CCD, make Exmor CMOS the far superior, higher-resolution choice to CCD. Image smearing is essentially gone as a result, and pattern noise has been squashed to barely perceptible levels. Because of its higher data rate and high-speed signal processing, the Exmor CMOS can also capture both still and motion picture images at the same time.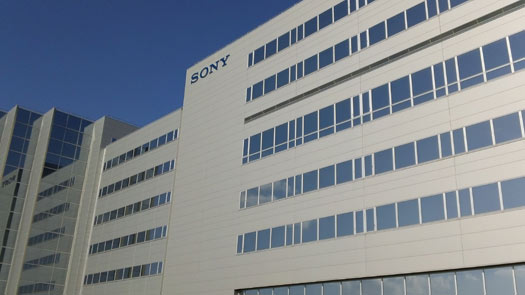 Kumamoto TEC near Kumamoto City, Kyushu
With sensors this large and a product line this broad, one expects a huge investment in engineering, development and manufacturing to be behind it. Sony's multi-tiered approach has its roots at its Semiconductor Kyushu Corporation, or Kumamoto TEC, in an agricultural area just outside of Kumamoto City on the southern island of Kyushu. Sony Kumamoto TEC produces both CCD and CMOS sensors, as well as LCD/SXRD sensors, for the smallest cell phone camera on up to the new CineAlta. It also manufactures and sells imagers to a variety of other camera makers, including Nikon. During our press visit there in early March, the facility's president Toshiro Tom Kurusu (who broke the ice by asking us to call him "Tom Cruise")   told us Sony first came to the area 35 years ago for its clean water, essential for making silicon and creating sensors, and inexpensive real estate. A kind of Silicon Valley cluster of other technology companies and high-tech feeder universities have since sprung up in the area, but the clean water and surrounding sweet potato, barley, silk, tobacco and green tea farms also remain. The Sony campus in Kumamoto, where some 3,000 employees work, covers just over ten acres.
The modern facility, mostly built during the last decade, is now entirely automated. Each wafer produced at the plant here has a purity of 99.999999999% (yes, that many 9s-it's on a plaque inside one of the many high-ceilinged corridors). It is sliced and cleaned from a single monocrystalline silicon ingot "grown" in controlled environments for this purpose. We were told about 1,000 wafers, sliced .075 ml thin, come from each ingot which, resembling some Cold War-era missile, looks like this:
Even the smallest particles landing on a wafer can short a single sensor's circuitry. Now aerosol air jets are used in addition to water jets to get the wafers completely clean, making the whole system nearly 75% more effective in removing microscopic bits of dust.
And if you're wondering if they are trying to put 3D sensors on a single camera chip, the answer is yes. Just how they will do that, however, "is completely secret at this point."
New HDCAM-SR Recording and Decks
The transition to completely file-based workflows may still be years away, but it will get easier with the feature sets inside Sony's new HDCAM-SR decks and portable recorders. The SRW-5800/2 HDCAM-SR deck, featuring four I/O ports for HD, 3D or 4K, now also includes MXF file transfer, 4:2:2 double speed recording/playback, 4:4:4 RGD double speed recording/playback, 4:4:4 RGB 3D recording/playback, real-time 2K   and 96k/24-bit audio. The deck supports HDCAM and HDCAM-SR tape in, which can be converted to MXF 220 Mbps or 440 Mbps for the rest of the production and post pipeline. This MPEG4 SStP box supports uncompressed DPX and 16-channel, 24-bit PCM audio.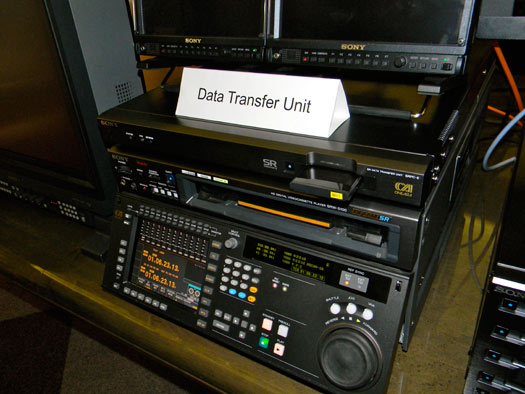 The latest SR Memory card, built for this SR memory deck, is a removable cartridge-the size of a slim cell phone or Sony's consumer flip-style videocam, the Bloggie-with a guaranteed transfer rate of 5 Gbps. It holds 256 GB on up to one full TB of HD, 3D or 4K master-quality recordings. You can also store multi-channel HD and high frame-rate content. The SFW-5800/2 has an internal fixed memory bay of up to 8 TB. Add the new 1 TB card in each of the four slots and that takes the deck up to a maximum capacity of 12 TB, roughly 100 hours of SR "Lite" material. Redundant data protection and security comes standard on each card.
The last piece of the evolving HDCAM-SR story is the HD portable memory recorder, a kind of multipurpose field recorder with either HD-SDI or 3G-SDI dual-link 1080/24p or 60p RGB, timecode in and out, DC power and battery operation and an all-important remote panel. Hook it up to an F3 in the field and you can pull off content on your SR Memory card ready for the online edit suite.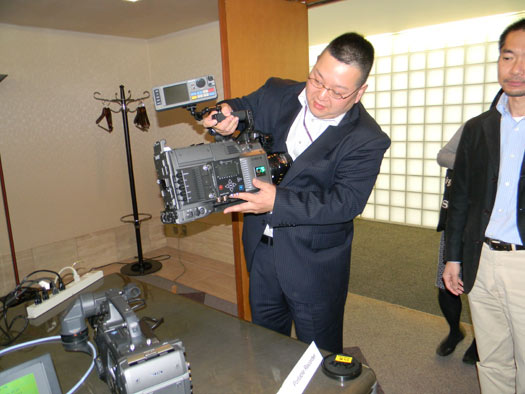 A Tragedy Continues, and Tape Shortages Begin
Sadly, the effects of the March 11 earthquake, tsunami and nuclear plant crisis are still being felt across Japan. The human toll in the northern coastal near the epicenter and in the tsunami's direct path is staggering, and the equally staggering numbers of displaced survivors are struggling to adapt. It bears noting how Sony employees have responded by assisting fellow citizens and local governments, particularly in the devastated north, with donations of their time, expertise and technology. According to an official release sent last Friday from Sir Howard Stringer, Sony Corporation's chairman, CEO and president, some 40,000 Sony employees worldwide have either donated money or volunteered their time to assist the hundreds of thousands displaced by the tragedy. The release estimates that the company and its employees have contributed a total of 1 billion yen (about $12.2 million) of videoconferencing, basic supplies and money to the ongoing efforts.
But Sony's production pipeline has also been badly affected. With the uncertainty surrounding Sony's Sendai manufacturing plant- where HDCAM-SR tapes and almost all of the other Sony Professional Media products, including the Blu-ray media used in XDCAM cameras, are made-tape shortages here in New York and in Los Angeles are also now an unfortunate reality. In the days after the quake, Sony sent a letter to its major customers and dealers informing them that the Sendai plant, near the quake's epicenter and also in the tsunami's direct path, would be closed indefinitely. As a result, the company warned, Sony's physical media would be in short supply in the weeks and months ahead. HDCAM-SR, HDCAM, DVCAM, Betacam SP, Digital Betacam, Betacam IMX, Betacam SX, XDCAM, SxS, DV and HDV tape supplies will all be affected.
Many in both the LA and NY production and post community reliant on HDCAM-SR tapes in particular already began noticing the sudden shortages and just as sudden price increases last week. In some cases, I was told, the cost of one 124-minute HDCAM-SR cartridge, which you used to be able to get for around $230 – $300 street price per tape, was selling for upwards of $1,000 a piece. More than one dealer here in New York told me that shortly after Sony sent its letter, their Sony tape stock sold out within a matter of hours. If you've already searched your usual online sources, you know that HDCAM-SR tapes are out of stock just about everywhere else. Sony is working with its dealers and major customers to suggest alternative brands, such as Maxell and Fuji, to fill that gap. But even those manufacturers, Sony admitted, are struggling to keep up with the demand. The company is advising dealers not to fulfill overly large orders or guard against hoarding during the crisis. It also encouraged its customers to conserve and monitor their tape usage on a strictly per need basis for current production. A very tough call for all involved in the supply chain.
Some, including several Hollywood studios, are said to be experimenting with alternative tape formats like LTO. But according to CET Universe's Nathan Adams, the tragedy in Japan will force anyone using tape of any kind to be much more cautious and practical with the tape stock they've already got. "First, this is a real human tragedy, and I acknowledge the extreme struggle that Japan's people are going through and the considerable time it will take for them to recover as a nation," says Adams. "But in terms of the impact on our industry, particularly the plant closure in Sendai, I'm also a realist. While I would love to see everyone switch to a file-based workflow and eliminate tape completely, I just don't think that will happen in a huge wave as a result of the crunch for tape stock. What I'm seeing so far is people just buckling down and being as conservative as possible with their stock. They're even re-using HDCAM-SR stock they've got on hand. I think you're going to see some changes in standard practices, but it's going to be focused along the lines of tightening the belt, not adopting a new platform." His hope for the long term, he adds, "is that this eventually can be a positive catalyst to change. I'd like to see more people adopt a workflow process that doesn't touch tape-ever. We all know that's where things are going. The sooner we get there, the better it will be for everyone involved."
---
Did you enjoy this article? Sign up to receive the StudioDaily Fix eletter containing the latest stories, including news, videos, interviews, reviews and more.