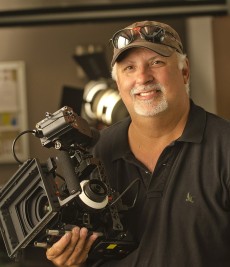 Camera Operator Eric Fletcher Explains Why He and New Season 7 DP Jeffrey Jur Find the HD-SLR So Versatile on Set
Dexter, Showtime's award-winning series that sprang from the 2004 novel, Darkly Dreaming Dexter, entered its seventh season last fall with a renewed perspective on the tale of a forensics analyst who also happens to be a vigilante serial killer. Says Eric Fletcher, SOC, the show's camera operator, Season 7 director John Dahl and director of photography Jeffrey Jur, ASC, were ready to shake things up by letting the lead character's deeply troubled POV seep into the way the production crew framed their shots. And the surest way to channel that tunnel vision was to go lower, higher, tighter and just plain weirder than they could with previous camera setups.
Deftly portrayed by actor Michael C. Hall, Dexter "is a very neat monster and an unbalanced individual," says Fletcher. "We went for a totally different look this season that really taps into that. And to do that, we had to shoot from some very odd places and equally odd angles."
Enter the ARRI Alexa and Nikon's D800 HD-SLR, which Fletcher had experimented with on another show. After a series of tests alongside the Canon C300, the relatively lightweight, compact and inexpensive D800 became the C and D bodies on the show's main unit camera and the second unit's primary camera for the latest season that wrapped in December. "The fact that we know we have only one more season left next year really kicked a fire under everybody," he says. "This season, I think we've made some of the best television we've ever made on Dexter, even surpassing Season 4. And both the Alexa and the D800 footage look gorgeous."
Dexter's creators had long experimented with photographic norms, but Fletcher says they had moved away from that kind of freedom of form in later seasons. "When I was first hired for the show, I was told, 'Whatever you've shot for a regular network show is wrong.' My response was, 'Sounds like fun. When do we start?' Back then we would do a lot of wide tights that really showed the entire environment, even though we knew we couldn't always jam two cameras into a scene because we've got other sound or lighting considerations." As the scripts started evolving and the direction changed—the show has rotated in some 14 directors over the course of its run—scenes and setups multiplied by episode. "With the time constraints, we started devolving to more conventional long-lens shots," he says. "For a while there, it became a very long-lens show and we forgot about the environment."
DP Jeffrey Jur
Changing the Mood
When de facto showrunners/directors Steve Shill and John Dahl, who've led the most episodes since 2006, brought Emmy-winner Jur on board in 2012, Fletcher says the mood changed on set. "John Dahl had the first four episodes of this season," says Fletcher. "He has a visual sense about him that is just amazing: he sees things just a little differently and I love it. He and Jeff decided that the show needed a visual revis, and we all wanted it to look really great again for its final two seasons."
That meant returning to "big wides, extreme tights and unbalanced frames, even setting up answer shots in successive episodes—as long as the shot still told the story." The results "are wildly funky and cool looking," says Fletcher, and the D800 captured many of the more extreme images. "We're not sitting on thirds anymore, but we're not mixing things up just for art's sake, either. We want the audience to be able to get the gist of the story through the visuals alone."
This wasn't the first time a DSLR had been used on set, either. During Season 5, the crew used a Canon 5D MK I a few times for "stunts where we just couldn't fit a camera body," says Fletcher. "It wasn't calculated at all; it just happened. The 5D was the DIT's camera, so it was more like, 'Hey, grab that and put that out.' We were literally pulling anything anybody had that could shoot an image out of a bag. We also had a few Canon HVXs on hand to use as crash cameras on cars."
Renting those earlier DSLRs from Panavision, Fletcher says, helped the show's creators convince the network to shift full-time to the file-based ARRI Alexa, initially thought to be financially out of reach. The switch to the fully file-based workflow this season was not without its challenges, however. "It was a bit of a learning curve and mental realignment, for sure," admits Fletcher. "But we got post out of that, and we got so much more flexibility as a result."
Through Nikkor Glass Darkly
Fletcher says Nikon's first 1080p camera, the D4, sparked his interest in the line. "I'm a fan of Nikkor glass in general and wanted to get the D4 on set. Last April, Nikon ended up sending us two of the new D800s because they felt that its additional features would help us out. And boy, did they."
Nikon also sent "a ton of glass," including 16-35mm, 24-70mm, 72-100mm, 35-50mm and 85 Prime lenses. Fletcher added his personal 14-24mm lens and a borrowed manual-focus lens kit of older Nikkors to the mix. "I'll be using those in the final season in 2013, mainly because autofocus lenses aren't super-friendly for the assistants to work with, but also because the Nikkor glass lasts forever." The camera operator then scouted ARRI's latest Pro DSLR rigs at NAB and ended up four weeks later with a "freshly cut" full cage, follow-focus matte box, handles, braces, rods and quick-release plates, "basically everything I needed before my show started shooting."
For its type, size and price, the D800's exceptional color depth, dynamic range and very low noise at high ISOs (all of which I witnessed firsthand during a recent test run of the camera) are well suited to an edgy show like Dexter that shifts relentlessly from the full-sun, high-contrast Miami streets to dimly lit, cave-like interiors. A series of tests at Panavision last spring showed the Dexter creators just how well the camera could keep pace with the Alexa, convincing them to make the D800 the show's primary second-unit camera.
"We used the Alexa as a baseline and had the D800 recording to an outboard recorder uncompressed and to an internal memory card at H.264 compressed," says Fletcher. "We also tested a Canon C300 with a Cooke lens on it—a $40,000 setup—running alongside the $4,000 Nikon D800 setup. The Canon footage had what you might call an over-smooth look to it. But the D800 uncompressed footage blew us away."
When they looked at D800 footage alongside the ARRI baseline at Technicolor, he says, "we really couldn't see much difference. But our jaws really hit the floor when we brought up the compressed D800 footage. Right then the decision was made with the post supervisor Megan Walsh that if we shoot with this camera, there is no need to shoot uncompressed. That means the file size goes from 4GB to 600 MB. That's just the factory setup, too."
He adds that the show DIT, Kevin Celi, came up with a setup that, "for all intents and purposes, is a drop-in next to the Alexa footage. Sure, it doesn't have the film-like 14 stops of latitude that the Alexa has, but if you're watching at home, you'll be very hard-pressed to see the difference. Sitting in the color suite, you see the difference, but not enough of a difference that can't be gently sweetened. All of it recorded to an SD card via H.264."
The team set a primary look for the second-unit D800 that toned down the sharpening, contrast, color and saturation to flatten the image and make it more pliable in post. "The image out of the box is very naturalistic, but if we baked in a crunchy look, we could only get crunchier. We need that flatness to be able to throw a look at it in post and go."
The SD cards out of the D800s follow a similar onset workflow to the SxS cards out of the Alexa: they head to the DIT, are transferred to the dailies hard drives and are then sent to Technicolor. Dailies are all viewable in real-time through DAX and the various computers and devices connected to it. "I think that's one of the things the post guys liked about the D800. The workflow was transparent, and the camera output a true 1080 image that didn't require any zooming in to get rid of overlays. It made life for all of us that much easier."
Yes, Nikon Can
Fletcher says everyone on set knew the D800 was up to the job when they shot this season's very first episode last May. In an early scene, Dexter's sister Deb, played by Jennifer Carpenter, is pumping gas late at night into a five-gallon can. "It's pitch black, we've got the white shelf of the pump station, there's a lamp in the frame, there's the bright red gas can, there are Jennifer's skin tones and a bit of blue on the pump and it all looked absolutely perfect," he says. "It was as if we had shot it with the Alexa. Sure, there was a tiny bit of compression in the blacks, but nothing anyone could see. And once we color-timed it down, it wasn't there any more. Even post was happy with the workflow."
Fletcher adds that pretty much every high-angle shot in this season, especially those shot through a ceiling fan, was recorded on the D800. One of the show's two D800s lives permanently in the ARRI Pro DSLR rig and the other runs the gamut. "It looks like a regular DSLR, and we've put it into couch cushions, where we're shooting both a medium and a tight, in home-made Fig Rig-type setups, mounted it on fans, put them in close during kill scenes and even used it in a two shot across a pool table—you name it. We've also used one for surveillance footage, but because it starts out in such a great place, we have to degrade the hell out of it in post. It's a good problem to have."
Nikon support of the D800s "has been and continues to be phenomenal," says Fletcher. "They listen to what we need, they come to the set, they implement firmware updates as needed. That's all made some very unique shots possible that we just couldn't have gotten otherwise. Now we can say, 'Hey, wouldn't it be fun to go put a camera over here?' and then go do it without altering our main setup. The battery life is amazing, too, giving us sometimes up to three hours out of one battery, even with a 64 GB card.
"It won't ever replace the Alexa, which is a better form factor, a better picture, and has more dynamic range. The Alexa is also amazing at highlight retention, and that's because it is doing an in-camera HDR and noise mask. But when you look at how the Nikon is handling the roll-off on the highs, how it is handling the toe of the curve, [and] how it is handling no information to getting into the dark grays and coming up in the middle tones, it is doing a fantastic job. Footage is creamy and smooth, much like the Alexa footage. It really looks cinematic and stellar."
---
Did you enjoy this article? Sign up to receive the StudioDaily Fix eletter containing the latest stories, including news, videos, interviews, reviews and more.