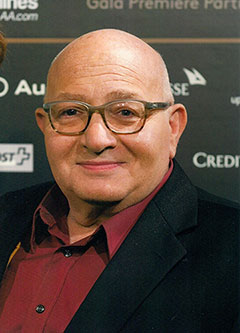 Veteran director discusses the challenges he and his team faced crafting a noirish period piece that examines the true story of a Jewish baseball player who spied for the US during WW2.
Director Ben Lewin says the biggest challenge he faced when making the new indie film, The Catcher Was a Spy, starring Paul Rudd, was his lead character himself. The movie spotlights a key time in the mysterious life of a unique historical figure, Moe Berg — a Jewish professional baseball player who spoke several languages and was highly educated, qualities that eventually led the U.S. government to recruit him to spy on the Germans during World War II. Lewin's film focuses on the tail end of Berg's baseball career, when he is about to be sent off on his most dangerous mission — to determine how far along the Nazi nuclear program was and, if necessary, assassinate its architect, famed physicist Werner Heisenberg (played by Mark Strong).
But Moe Berg's story has a lot more elements to it, from the subtle to the downright stunning. During a recent conversation with Studio for the Podcasts from the Front Lines series, Lewin said that shooting and cutting the film, which is based in part on a biography written in 1994 by Nicholas Dawidoff, required his team "to weave a coherent narrative out of a life story that is not coherent. The trouble with Moe was that he kept reinventing himself, so you had, at different stages in his life, a different character not necessarily consistent with the previous one."
Therefore, Lewin says his partnership with cinematographer Andrij Parekh, with whom he was working for the first time, and editor Mark Yoshikawa, ACE, a longtime collaborator, was central to fitting the puzzle pieces together.
---
Audio-only version:
Subscribe: Apple Podcasts | RSS
---
"[In terms of visuals], instinctively, Andrij and I both started the discussion in the same place, with movies like The Third Man and The Conformist," Lewin says. "We spent quite a long time looking at particular scenes, particularly in The Conformist. That was an instinctive starting point, which was common between us. Andrij also helped me get over my reluctance for multicamera shooting. The only way we were going to get through this schedule [about one month of principal photography] was by using multiple cameras. Working with Andrij was a very educational experience for me."
Similarly, Lewin says he had "a symbiotic relationship" with Yoshikawa after having collaborated with him for years. Indeed, he credits his editor with helping him sort through the many winding strains of Moe Berg's life, while keeping the project on track at the same time.
"Mark and I don't have to say a lot to each other to get it — we were collaborating even before we started shooting," Lewin explains. "And then, while we were shooting, there was an ongoing dialogue about 'Well, you need more of this shot or that sort of shot.' But that was mainly just ordinary editing common sense.
"I like to sometimes edit in a completely random way and go off on a wild goose chase in one direction or another. Mark would always follow me to the brink, but never let me go off the edge. That is the best part of our relationship — he would fly with my crazy and not-so-crazy ideas, but always knew when to stop. That's a terrific quality in an editor — to know when to put the brakes on the director."
Look for a new episode of Podcasts from the Front Lines every month at StudioDaily.com.
---
Did you enjoy this article? Sign up to receive the StudioDaily Fix eletter containing the latest stories, including news, videos, interviews, reviews and more.