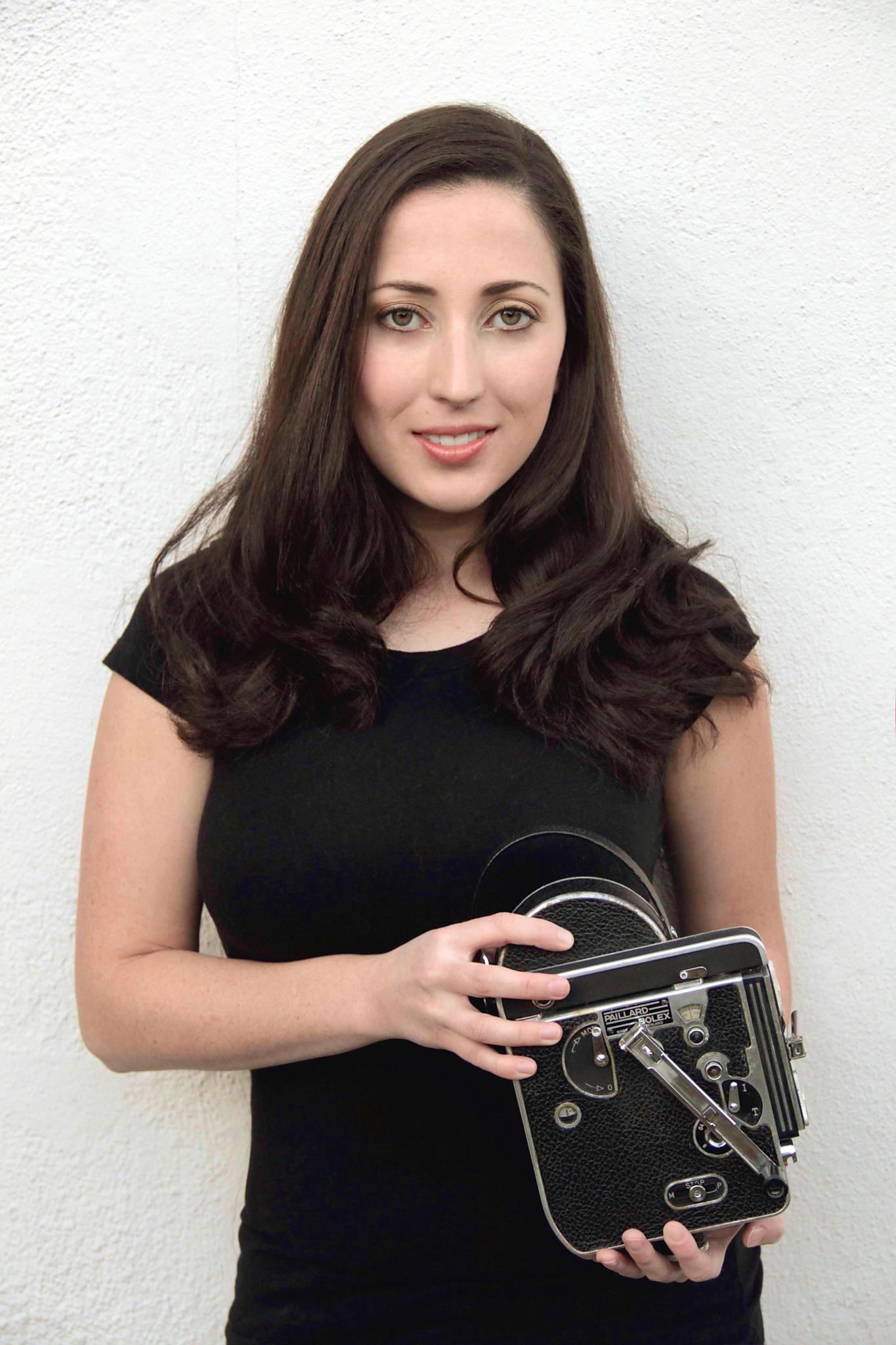 How a Discovery in Her Family Attic Catalyzed an Alternate History Lesson for Cinema Studies
It all started with the death of Alyssa Bolsey's grandfather, Emil. Going through Emil's belongings after traveling across country to attend his memorial, she found that he had kept an archive of materials that had belonged to his father, Jacques Bolsey — including a mass of photographs and other documents related to camera design. And there was a camera, which she found carefully wrapped in paper, almost like a gift, that especially piqued her interest. It was compactly and elegantly designed, and its name was embossed on the side panel: Bolex Camera. For decades, the simplicity of the Bolex made it a 16mm workhorse for student filmmakers, avant-garde artists including Maya Deren and Barbara Hammer, and soon-to-be A-list directors just starting their careers, including the likes of Terry Gilliam, Peter Jackson, Spike Lee and David Lynch. Alyssa Bolsey was a film student herself, but here was a family legacy she had never been privy to: the "Bol" in Bolex belonged to Jacques Bolsey. Her great-grandfather was the inventor of one of the most beloved and widely used pieces of technology in all of film history.
Bolsey chronicles that discovery in the opening minutes of Beyond the Bolex, her feature-length documentary that has its world premiere Thursday, Nov. 8, at DOC NYC. From there, her film takes twin paths — one of them detailing the history of the Bolex and its innovative, democratic design, the other seeking out the essence of the man himself,  drawing on the film footage, journal entries and other artifacts he left behind. Jacques Bolsey's story is familiar, but gripping — as a Ukrainian Jewish refugee living in Europe, he was very much a man of the 20th century, for better and worse. Beyond the Bolex is a story of immigrants, of invention and innovation, hopes and fears — and, as she discovered during the filmmaking process, it's also in part a story about Bolsey herself. We talked to Alyssa Bolsey about her family history, how she conceived and developed the film, and how the history it recounts speaks to the world we live in today.
StudioDaily: When and how did you realize that this little camera you found would be the germ of a feature-length documentary project?
Alyssa Bolsey: It wasn't instantly, because when I first came across this material after my grandfather passed away, I was just entering film school. And as I grew up, my cameras were video and digital. Film wasn't my world. But I had heard the word Bolex. I thought, "That's familiar — I think that's an important camera." But I went back to film school and told my Intro to 16mm professor about it, and he was like, "Wow, this was the camera I started with. Generations of filmmakers have gotten their start with the Bolex." He would occasionally come to class with pages from American Cinematographer and say, "Look at this cinematographer. They used the Bolex, too." I started to realize that this camera connects so many people. And the research I did made me curious about why Jacques was so obscure, and why I didn't know more about him.
My family wasn't really wealthy, but they were excited to see my passion for this, and they helped me buy a Panasonic DVX100A and a tripod. During film school, I was running around doing exploratory interviews with family members and film professors, and I thought that was going to be it. I didn't know it was going to get to where it has. Eventually, I put it aside for a couple of years, but I couldn't let it go. I was working at CAA in Century City, and I kept thinking about the film. Family members were dying, Jacques's films were aging and deteriorating. I couldn't put it aside any more. By 2010, I was 100% in. This story can't wait, I have to tell it, let me find my team. I want to find people who can work with me to make this more than my own little project and make it something that can be seen worldwide.
How did you find your cinematographers, and what was your visual strategy?
We had two main DPs — Camilo Lara Jr. [also a producer on the film] and Joseph Areddy, who was born in the United States and lives in Switzerland. The two of them shot the bulk of it. I met Camilo at CAA when we were first doing assistant work on agents' desks. When I decided I had to really jump in, he was known as a really creative person, and people told me, "You need to talk to Camilo. He shoots and has a good eye." We had dinner one night and I told him the whole story, and maybe a year later he came on as producing partner and cinematographer.
Joseph came on a couple of years later. Camilo and I did the first shots together and started talking about the look. We shot on the Canon 5D and 7D, and then we went to the Canon C300, and the Sony F55, and then the Sony a7s. [Laughter.] That's what happens when you shoot for 13 years! And then the Bolex, which has been going for almost a century.
The scenes set in your family attic have a melancholy quality, and an almost sepia tone. 
We wanted the attic discovery to come across more like a surreal and idealized memory than a very realistic shot. That said, the attic looks really cool already, but we did pump it up with a light through the window and some atmosphere in the room. We wanted the film to look more real and vérité as i started getting to know Jacques, and he became less an obscure character and more a real person to me. We got rid of the atmosphere, we used more natural lighting where possible — and some material was shot with no extra lighting. That was the basic concept.
What was it like to dig into a story from your own family? I can imagine there must have been advantages, since you already knew many of the people you wanted to talk to. But were there any boundaries when it came to privacy and the wishes of your relatives?
It was definitely on my mind. I didn't want to upset anybody. But they were open — way more open than I would be if it were reversed. I was respectful, but they didn't tell me "Don't go there" or "Don't do this." They were more supportive than anything. I can see some families wouldn't be so open, but they were ready for this story to be told. They were young when Jacques died, so they didn't have the knowledge they have now. Even when the cameras weren't rolling, they were there with me and were excited about it. I think it's something that always interested them, but it's something they never dug into. When I forced the issue, they embraced it, and it brought him to life in some kind of strange way for them, too. Each of them deepened their own relationship with him through the making of the film.
There is a scene in the film where your emotional involvement in the story becomes apparent — to a degree that seems to have surprised even you. When did you decide it would be important for you to appear on camera, and for the depth of your own feelings to be investigated in the film?
I didn't plan on being in it, other than being the narrator who you would see occasionally, when we started. Had I known it would go in the direction it did when I was in the editing room, I would have shot it differently. But it took on a new life. When I started out, I had distance from Jacques — he died 20 years before I was born. I didn't feel that closeness to him, whereas my family knew him. They could hear his voice in their head. They could smell him. I was more of a journalist in an investigative role. After going through this process, I started forming a bond with him. I felt like I knew him. I felt like he wasn't a subject of my documentary — he was family. So, working with my editors, it made sense to get into it a bit more. It felt like something people could identify with — having an ancestor you never met, but you wish you could have. You find out you had a passion in common, or a shared trait. So it made sense for me to be part of the story. For that scene specifically, I wasn't sure for a bit if I wanted to put it in there. It was real. It was authentic. And I think those emotions said a lot about the journey and the relationship between me and my great-grandfather and how that had built throughout the filmmaking process. It had become a key scene.
There's something disturbing today about seeing Jacques Bolsey flee Europe in the run-up to World War II to build a new life in the U.S., now that anti-immigrant sentiment in the U.S. is inflamed and anti-Semitism is feared to be on the rise. I don't want to impose a political framing on your film, but I was curious: to what degree do you think of your film as political?
Unfortunately, it's getting more and more relevant by the day. When I started making this movie, the world was a lot different than it is now. I didn't set out to make it political, but the world changed while I was making it. Jacques's journey, the idea of what America represents and everything else, has become really topical, especially in the last 12 months — and in the last couple of weeks more than ever. The world is feeling less and less safe. While finishing this movie, I couldn't help but wonder if this was what he felt before things got bad. And when I was making it, I was very conscious. I wanted to make the American dream evident in the movie — not to say America was perfect then, because it was never perfect, but more that Jacques viewed it as the ideal country for his dreams and starting over. It was a symbol of hope and starting anew. He really believed in this country, and so do I. I want the country to regain that symbol of hope, and it feels like we're losing it, like we don't represent that new beginning. I hope I'm wrong and we can get it back. I hope this story touches people, even though it wasn't designed to be political. I think it shows an immigrant and what they can give to society, and also what happened in Europe and how that affected his trajectory of creating these things we all love, and chasing the dream.
I appreciated that you were able to end the film on a positive note, visiting what's left of the Bolex operation. Obviously it's not what it used to be, but they're still making cameras and keeping older ones running. I especially enjoyed seeing the bins and bins of replacement parts. I think it's [avant-garde filmmaker] Jonas Mekas, earlier in your film, who compares the Bolex to a manual typewriter, with its clickety-click sounds, and there are typewriter repair shops here in New York city that have all those bins of replacement parts to keep those archaic tools running. It's just nice to see that people are still using these things after so many years.
I know there are still people out there using the Bolex. Usually, they get second-hand Bolexes from a friend or family member. But the fact that these cameras have such a life to them, that they're not discarded but handed on to a new person, to breathe new life into them, that's really special. I think it's something we don't see often, now that we have new computers every several years and new cameras every several years — to have something you keep. I haven't ever lived with an item for my entire life like that. But with these cameras you could. And that's why they're so special to people. They have a bigger meaning. They're something you possess for so long. and it literally witnesses the world with you as long as you want it to.
Beyond the Bolex premieres next Thursday, November 8, at 9:15 p.m. at the Cinepolis Chelsea in New York City, with Alyssa Bolsey and Camilo Lara Jr. in attendance. The screening is sold out, but rush tickets may be available. For more information, visit the DOC NYC website.
---
Did you enjoy this article? Sign up to receive the StudioDaily Fix eletter containing the latest stories, including news, videos, interviews, reviews and more.