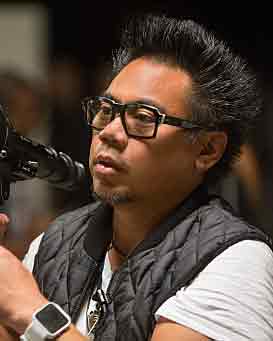 Visualizing Urban Reality with the Red Dragon, Shooting the Streets at Night, and Building a Visual Arc for One of Music's Baddest Bands
The ongoing box-office roll of director F. Gary Gray's hardscrabble look at the pioneering and controversial gangsta rap group N.W.A. in the movie Straight Outta Compton since its mid-August debut has been one of this year's big motion-picture stories. And it has been analyzed any number of ways, including the many controversies about the group itself and what elements of their story were or were not included in the film. But, from a technical point of view, the movie is a raw and complicated period piece, which posed a number of challenges for its acclaimed cinematographer, Matthew Libatique, ASC, during the production process.
During a recent conversation, Libatique outlined a number of those challenges. Libatique says he collaborated with Gray on visualizing a unique period in the urban history of Los Angeles that millions of viewers knew intimately or, in fact, had lived through themselves; and he had to figure out a shooting style and methodology that would work for the project's budget and creative demands. Style-wise, he and Gray opted for a semi-docu-style approach—though Libatique hates that term—along the lines of Larry Clark's 1995 indie drama, Kids, and a strategically crafted visual arc for depicting the rise and fall of N.W.A.
"I felt the sort of snapshot feeling of a person who happened to be part of the crew was how we should approach at least the beginning of the film, and less formal than cinema usually is or could be," he says. "Sort of bringing it down to a level where it could feel like this is how it went down—that was something we strived to do. But then, we had the added dimension of having to create some type of visual arc from their origin to eventual success. And if you look at the film, technically, it's a combination of older lensing—older optics—and the use of smoke when you don't see people smoking, to give you the impression that has been going on inside that space; and having the camera be a character inside the room that is viewing things from the perspective of a human being, rather than the objective camera for the audience. And then, as you get into the second and third act, the film becomes a little more formal, but still with that vibe of trying to be as realistic or naturalistic as possible."
Libatique also discussed in detail opting to shoot the movie with the Red Epic Dragon camera system, how it helped "register black skin tones," how it "has a lot of modularity, which allowed me to switch different resolutions going from 4k to 5k with my lens package and shooting anamorphic and switching to spherical kind of belligerently based on need," and a whole lot more. To enjoy the conversation, watch the video below or, to download an audio-only MP3 version, right-click here.
---
Did you enjoy this article? Sign up to receive the StudioDaily Fix eletter containing the latest stories, including news, videos, interviews, reviews and more.